Jungle Cruise Trailer: Dawyne Johnson & Emily Blunt Embark on a journey to find charismatic tree
Dawyne Johnson & Emily Blunt starrer Jungle Cruise Trailer is out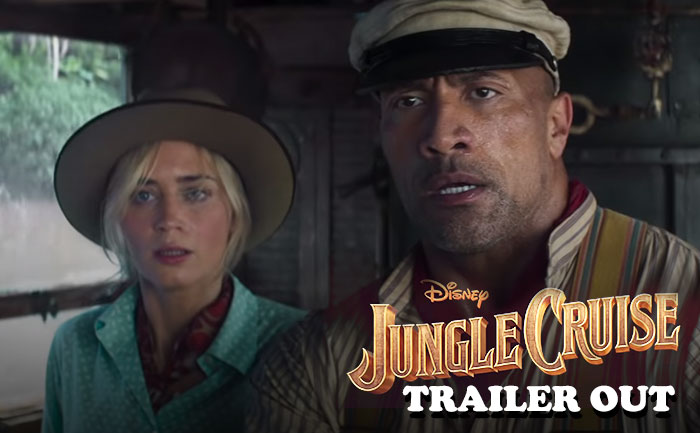 After intriguing posters and teasers, makers of the film have finally dropped the Trailer of Jungle Cruise. The film Jungle Cruise features popular Hollywood stars Dwayne Johnson aka The Rock and Emily Blunt in the lead role. The film Jungle Cruise is scheduled to release on 24th July 2020.
Directed by Jaume Collet-Serra, Jungle Cruise is an American adventure film, which is based on the Disney them park attraction of the same name. The Rock is playing the role of a charismatic riverboat tour guide who merely has a cheapest boat in town while Emily the adventurous scientist and explorer, who along with her brother, is in pursuit of the Tree of Life in the Amazon, as it is believed to have healing powers.
Blunt asks The Rock's help to move to Lagrimas Crystale where the tree is supposed to be located in. After finalising the remuneration, The Rock and Blunt move on a adventure filled, Amazon-jungle expedition of a lifetime that pays the perfect ode to the Jungle Cruise ride.
The film is set in the early 20s and shot in some exotic locations, it is to be seen if Blunt, her brother and Johnson make it to the magical tree or not.
Produced by Johnson along with John Fox, David Hiram Garcia, Dany Garcia and Beau Flynn, HJungle Cruise also features Whitehall, Edgar Ramirez, Jesse Plemons and Paul Giamatti.
Watch the trailer of Jungle Cruise below:
The fans of The Rock got to see the first look of his film Jungle Cruise at the D23 Expo. Speaking about the film, Dwayne talked about how Jungle Cruise was extremely special to Walt Disney and that the movie is a tribute to the late entrepreneur.
Also Read: These Are The 10 Highest-Paid Actors Of 2019, The Rock Tops The List