These Are The 10 Highest-Paid Actors Of 2019, The Rock Tops The List
The Highest-Paid Actors 2019: Dwayne Johnson, Bradley Cooper And Chris Hemsworth secured first, second and third position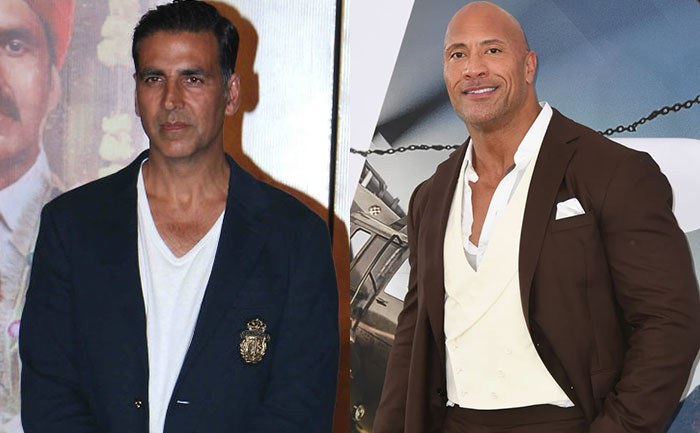 Akshay Kumar — who is currently basking the humungous success of his recent film Mission Mangal — has secured the fourth position in the list of world's 10 highest-paid actors. According to Forbes, Akshay Kumar bagged this position with a total earning of $68 million which roughly translates Rs 486 crore. The list of World's 10 highest-paid actors has been topped by none other than Dwayne Johnson, who is popularly known as The Rock, collecting $89.4 million (INR 639 crore) during the year June 2018-June 2019.
Notably, Akshay Kumar is the only Bollywood actor, who has managed to feature in the list of World's 10 highest-paid actors of 2019. Apart from Bollywood or Hollywood actor, the popular Chinese actor Jackie Chan has secured the fifth position in the list with a total earning of $58 million. List Of Top 10 Most Followed Instagram Accounts – May 2019
Last month Forbes released the annual Forbes Celebrity 100 list, which was topped by Taylor Swift with her annual earning of $185 million, followed by Kylie Jenner, Kanye West, Lionel Messi and Ed Sheeran. In Forbes Celebrity 100 list too, Akshay Kumar was the only Hindi actor, who has found his name in the World's 100 Highest-paid celebrities of 2019.
However, Shah Rukh Khan, Aamir Khan and Salman Khan failed to find their names in the World's 100 highest-paid superstars list. Talking about the last year's list, Salman Khan had ranked 82nd position on the list with his total earnings of $37.7 million. While Shah Rukh Khan, who had featured in 2017's highest-paid entertainers is nowhere to be found in this year's list. 11 Most Followed Celebrities On Instagram In India 2019 – Updated List
In World's 100 highest paid entertainer list, Akshay secured the 33rd spot with the earnings of $65 million. Akshay defeated the likes of Rihanna, Jackie Chan, Bradley Cooper and others to win the spot. Taylor, on the other hand, beat them all with her earnings of $185 million.
According to the Forbes report, Dwayne will get his highest salary ever for his upcoming film Jumanji: The Next Level. Yes, if the report is to be believed, Akshay will be paid $23.5 million for the film. The actor also commands up to 15% of the pool from high-grossing franchise movies, including Jumanji: Welcome to the Jungle and he is being paid $700,000 per episode for HBO's Ballers and seven figures in royalties for his line of clothing, shoes and headphones with Under Armour, the report added.
On the work front, Akshay Kumar, who has several films in the pipeline is currently working on Rohit Shetty's Sooryavanshi opposite Katrina Kaif and also has Bacchan Pandey, Laxmmi Bomb and Housefull 4 in his kitty.
Here's is the list of World's highest-paid actors of 2019
10. Will Smith — Earnings: $35 million
Will Smith is an American actor and rapper. In April 2007, Newsweek called him the most powerful actor in Hollywood. Due to his mindblowing acting skills, Will Smith has been nominated for five Golden Globe Awards and two Academy Awards and has won four Grammy Awards.
9. Paul Rudd — Earnings: $41 million
Paul Rudd is also an American actor, comedian, writer and producer. He studied theatres at the University of Kansas and the American Academy of Dramatic Arts, before making his acting debut in 1992 with NBC's drama series Sisters.
In his acting career spanning more than 25-years, Rudd has appeared in many TV shows such as NBC sitcom Friends as Mike Hannigan. Notably, he was named in the list of Forbes Celebrity 100 in 2019.
8. Chris Evans — Earnings: $43.5 million
Chris Evan is an American actor, who is popularly known for his superhero roles as the Marvel Comics characters Steve Rogers / Captain America in the Marvel Cinematic Universe and the Human Torch in Fantastic Four (2005) and its 2007 sequel. His work in the former film series has created a niche for him as one of the highest-paid actors in the world.
Evans made his acting debut with 2000 television series Opposite Sex. Apart from his superhero movies, he appeared in multiple movies including Not Another Teen Movie (2001), Sunshine (2007), Scott Pilgrim vs. the World (2010), Snowpiercer (2013), and Gifted (2017). In the year 2014, he made his directorial debut with the drama film Before We Go, in which he also starred.
7. Adam Sandler (tie) — Earnings: $57 million
Adam Richard Sandler is an American actor, comedian and screenwriter. After featuring in Saturday Night Live, Sandler went on to star in scores of Hollywood feature films that collectively grossed more than $2 billion at the box office.
The names of films in which he worked are Billy Madison (1995), the sports comedies Happy Gilmore (1996) and The Waterboy (1998), the romantic comedy The Wedding Singer (1998), Big Daddy (1999), Mr. Deeds (2002), Grown Ups (2010), Grown Ups 2 (2013) and voicing Dracula in the Hotel Transylvania franchise (2012-2018).
6. Bradley Cooper (tie) — Earnings: $57 million
Bradley Cooper is surely one of the most popular and talented American actor and filmmaker. Owing to his commendable acting skills, he has been nominated for many awards, including seven Academy Awards and a Tony Award, and has won a Grammy Award and a BAFTA Award.
Cooper has also been featured in Forbes Celebrity 100 on three occasions and Time's list of 100 most influential people in the world in 2015. His films have grossed $11 billion worldwide and he was named one of the world's highest-paid actors for four years.
5. Jackie Chan — Earnings: $58 million
Chan Kong-sang SBS is popularly known as Jackie Chan. He is a Hong Konger martial artist, actor, director and film producer. Jackie Chain is known for his acrobatic fighting style, comic timing, use of improvised weapons, and innovative stunts, which he typically performs himself, in the cinematic world.
He has trained in Wushu or Kung Fu and Hapkido and has been acting since the 1960s, appearing in more than 150 films. Forbes magazine named him as one of the top 10 most charitable celebrities and "most recognised star in the world". In 2015, Forbes declared his estimated net worth to be $350 million, and as of 2016, he was the second-highest paid actor in the world.
4. Akshay Kumar — Earnings: $65 million
Akshay Kumar is a Canadian-Indian actor and producer, whose real name is Rajiv Hari On Bhatia. In his career spanning almost three decades, Akshay Kumar has worked in more than 100 movies and won multiples awards including the National Film Award for Best Actor for his performance in Rustom (2016), and two Filmfare Awards for Ajnabee (2001) and Garam Masala (2005).
Do you know Akshay Kumar was the first Indian actor whose films' domestic net lifetime collections crossed ₹20 billion (US$290 million) by 2013 and ₹30 billion (US$430 million) by 2016? In 2008, the University of Windsor conferred an honorary Doctorate on Kumar in recognition of his contribution to Indian cinema. In 2009, he was awarded the Padma Shri by the Government of India.
Robert Downey Jr, who made his acting debut at the age of 5,  is one of the most popular American actors. In 2008, Downey Jr was declared as one of the 100 most influential people in the world by Time magazine and from 2013 to 2015, he was listed by Forbes as Hollywood's single highest-paid actor.
His films have grossed more than $5.8 billion in North America and $14.4 billion globally, making him the second-highest-grossing box-office actor to date both domestically and worldwide.
Chris Hemsworth is an Australian actor, who gained fame and recognition playing Kim Hyde in the Australian TV series Home and Away (2004–07) before making his debut in Hollywood. In his career spanning more than 15-years, Hemsworth appeared in the science fiction action film Star Trek (2009) and the thriller adventure A Perfect Getaway (2009).
His greatest commercial successes have been with the Marvel Cinematic Universe, playing Thor, beginning in Thor (2011) and most recently with Avengers: Endgame (2019), which established him as one of the leading and highest-paid actors in the world.
1. Dwayne Johnson — Earnings: $89.4 million
Dwayne Johnson, who is popularly known by his ring name The Rock is the highest-paid actors of 2019. The Rock is an American actor, producer and ex-wrestler. Before establishing his name in Hollywood, Johnson was a professional wrestler for the World Wrestling Federation (WWF, now WWE) for eight years.
His Hollywood movies have grossed more than $3.5 billion in North America and over $10.5 billion worldwide, making him one of the highest-grossing box-office stars of all time.
These are the names of highest-paid actors of 2019. If you liked this article, do not forget to share it with your FRIENDS. Stay tuned for more such updates.
Also Read: World's Highest-Paid Entertainers 2019