Mumbai: Orlem residents join traffic police drive to catch vehicles on the wrong side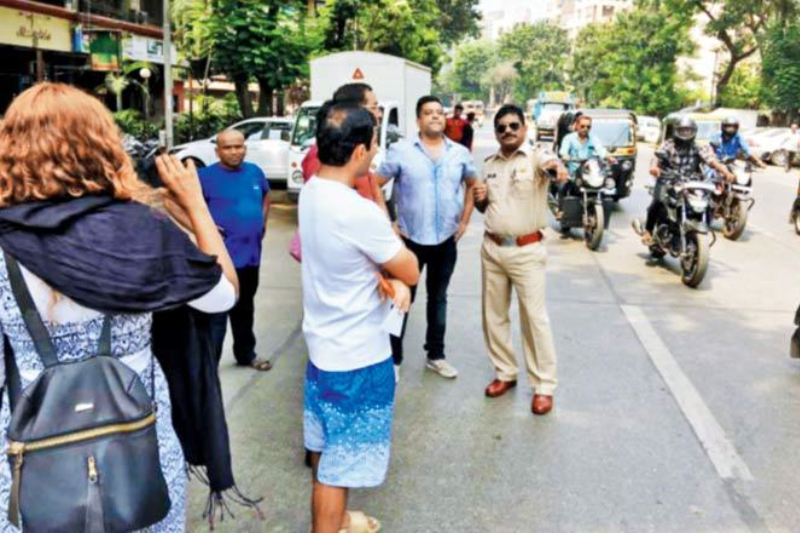 After witnessing a series of accidents of bikers riding on the wrong side of the road, Orlem's residents in Mumbai have joined the hands with the traffic police's special drive on Monday to catch the offender.
In the last few months, Orlem has seen a number of accidents around Orlem Church. It is known to bikers and motorists to drive on the wrong side of the road. Due to their fearless driving on the wrong side of the road, a tea seller had lost his life after being hit by a biker.
"To avoid a longer route, motorists are fearlessly entering the main road from the wrong side. In January, tea seller lost his life after by being hit by a biker from the wrong direction. Two weeks ago, a domestic help fractured her ribs and leg in the same way," Johannes Remedios told mid-day, a resident of Orlem, who started the Safer Roads @Orlem campaign to tackle this issue.
Describing the accident, Remedios said that these motorists usually went the wrong side of the road to avoid traffic congestion and taking a longer route. As the main road which connect Malad station to Mith Chowky is one the busiest roads in Mumbai during peak hours.
"They drive towards Boudi Lane in this manner, and then take a U-turn from the wrong side to enter Shankar Lane. It's not just bikers but even car and autorickshaw drivers who are doing this, which causes major chaos during peak hours," Remedios quoted by mid-day as saying.
In order to catch offender and create an awareness, Orlem locals have also started an online petition at chane.org that have already got 960 signature so far.
Remedios told mid-day, "Residents find it extremely difficult to access the footpaths or cross the road. There have been many accidents, quite a few of which were fatal." The most recent accident due to this menace took place two weeks ago, opposite Savio D'Souza's building.
Also read: Exclusive: Kolkata Nagerbazar blast victim Bibhash Das won't celebrate any more birthdays