JUST-IN LOVE: Justin Bieber shares a loved-up selfie with wife Hailey Baldwin
Justin Bieber reveals in this latest selfie that alone time with his wife Hailey Baldwin refreshes his soul.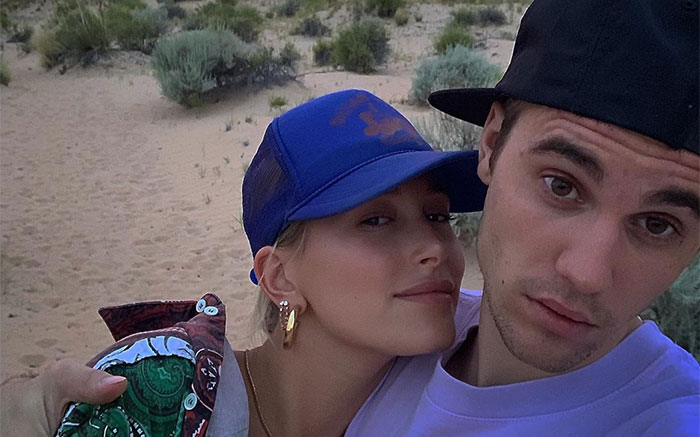 Singer Justin Bieber has shown his romantic side once again. The What Do You Mean singer shared a loved up selfie with wife Hailey Baldwin on Instagram. Along with the photo, Bieber also posted a sweet love note for his darling wife which reads as, "These are the moments I live for.. alone time with you refreshes my soul. You are so out of my league and I'm okay with that! You are mine and I am yours #foreverandever #tilthewheelsfalloff."
Check out the romantic post here:
In the selfie, the singer is seen cuddling up close to Hailey. He is seen in a simple white tee with a black snapback. On the other hand, Hailey is seen sporting a grey tee paired with a green, brown and white jacket along with a dark blue snapback. The married couple is seen posing in the desert amongst the mountains.
Bieber and Hailey Baldwin have been enjoying marital bliss, ever since they tied the knot on September 13, 2018, at a New York courthouse. Their reconciliation in May 2018, followed by an engagement only a month later in June, raised many eyebrows! However, proving the naysayers wrong, Justin and Hailey are going stronger than ever.
Recently Bieber had created a buzz after randomly posting a strange tweet challenging Cruise to a fight in the iconic UFC arena. But later Justin Bieber has stated that the Tweet was only a joke.
Now UFC President Dana White has officially confirmed that talks have taken place to make the Justin Bieber vs. Tom Cruise fight happen.
"It is true," White said. "As crazy as that sounds, that is true. … I don't want to use any names, but I was at home on a Sunday, and I got a call with two big guys on the phone. They were telling me this could possibly happen and this could be real. I'm like, there's no way that this is really going to happen. But if it does, call me back. I'm in."
We do not think that Tom Cruise will anytime soon take the challenge to fight Bieber. But if by some fluke it does happen. Do you want to see Justin Bieber and Tom Cruise meet in the Octagon?
Also Read: Don't Check On Me: Chris Brown & Justin Bieber Unite for New Single