Kangana Ranaut takes dig at Ranbir Kapoor and Alia Bhatt; asks they are young or dumb?
Kangana Ranaut takes dig at Ranbir Kapoor and Alia Bhatt again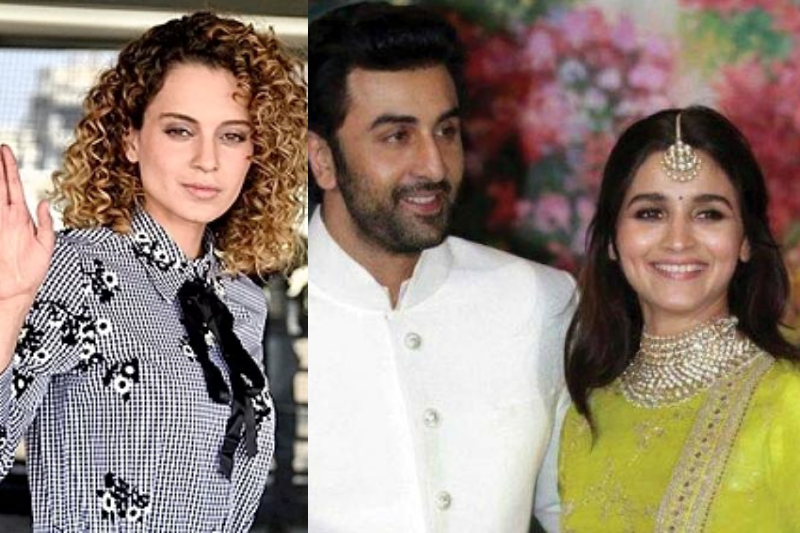 Besides tremendous acting, Bollywood actress Kangana Ranaut is known for controversy. She is a 'Queen' of controversy and no one can deny it. Kangana is known to speak her mind. The actress, however, has often landed in trouble for her pointed statements at Bollywood celebs. In recent times, the actress has targeted ace filmmaker Karan Johar, Alia Bhatt and Ranbir Kapoor. Continuing with same, Kangana has once again targeted Alia Bhatt and Ranbir.
In her latest interview with Mid-Day, Kangana said that Ranbir and Alia are both too old to be called young actors. On being asked why she loved picking on people, the actress replied saying, "I do only that when I am rubbed the wrong way. And what is this thing of calling them young… Ranbir Kapoor is, what, 37 years old, young kid of the generation and Alia Bhatt just turned 27… my mother had three children at 27. This is absolutely unfair… bachche hai, ki dumb hai ki kya hai…"
Kangana further went on to say that actors don't shy away from talking about their sex life, but are reluctant to talk about issues of national importance. She said, "If we are asking about your sex life, that you are okay to discuss, put the pictures on Instagram, who I am f***ing, who I am not f***ing, that is fine, but about the country, 'it's my personal choice'."
She also asserted that many in Bollywood are insecure because of her. In the end, Kangana said, "Tanu Weds Manu is still ahead of many heroes' highest grossers. And with Manikarnika, people are saying no hero has ever done action like this. So, it is frightening many people — making them feel, ki hamari bhi period film aayegi, will we be compared? If in your business, journalism, it is not as simple as it looks, then how can it be in mine?"
On the work front, the Kangana is all set to hit the big screen with Rajkummar Rao in "Mental Hai Kya".
Also Read: CONFIRMED: Kangana Ranaut Signed For The Biopic Of Tamil Nadu's Former CM Jayalalithaa