Karnataka Bus Strike: State Govt Warns KSRTC Workers of Strict Action
Karnataka bus strike: Exams postponed; auto, taxi fares fixed, more trains to run.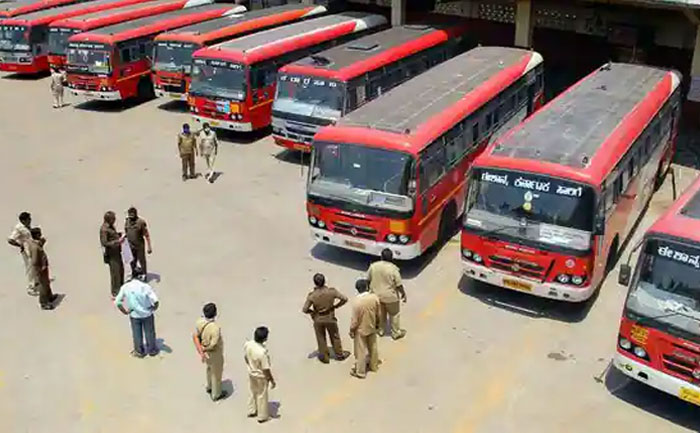 Public transport services in Karnataka has hit the commuters. Employees of road transport corporations have announced an indefinite strike from today. Karnataka State Road Transport Corporation (KSRTC), Bengaluru Metropolitan Transport Corporation (BMTC), North Western Karnataka Road Transport Corporation (NWKRTC) and North Eastern Karnataka Road Transport Corporation (NEKRTC) and others have joined the strike.
Drivers, conductors and other staff members under the banner of KSRTC have given a call for strike on wage-related issues. The protest is against the government's "failure" to implement a salary under the 6th Pay Commission for the workers of Road Transport Corporation.
Karnataka: Bus services affected in Bengaluru as Karnataka State Road Transport Corporation (KSRTC) employees go on an indefinite strike over their demand for revision of salary

KSRTC has issued temporary permits to private buses to operate

(visuals from Majestic bus terminal) pic.twitter.com/C7HNJI1cvK

— ANI (@ANI) April 7, 2021
Several universities including Bangalore University, Bengaluru Central University have postponed the examinations in view of the transport strike.
CM BS Yediyurappa said that the state government has issued a strict warning to KSRTc workers. He also ruled out any negotiations with them. The state government made it clear that it cannot fulfil their demand for implementation of the sixth pay commission report for the Road Transport Corporation workers.
The Government has also made alternative arrangements to avoid inconvenience to the general public. They have hired private transport operators and also deployed more trains. They have also allowed the state road transport corporation to hire private buses and school buses for transportation.
Also Read: Karnataka Issues New COVID-19 Rules As Cases Surge