Karnataka Congress In Hassle as Two MLAs Resign
Two Congress MLA from Karnataka have resigned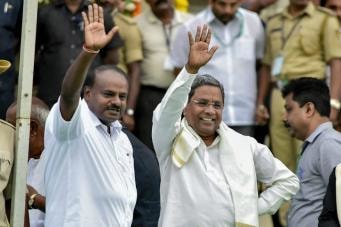 Two Congress MLAs Anand Singh and Ramesh Jarkiholi from Karnataka submitted their resignation to the assembly speaker on Monday. This act will prove to be deleterious to the already tattering government of Karnataka. The government is led by H D Kumaraswamy.
MLA Anand Singh kept his resignation first in the Karnataka Assembly. He was a Congress MLA from Vijayanagar in Ballara district. When asked for the reasons behind his decision, the MLA said to news18 that there were many reasons for it. The primary one being his opposition to the sale of 3,667 acres of land to JSW Steel and his demand for formation of Vijayanagar as a district. He made it clear that he was not against the government but only opposed the decision taken by it.
This was followed by the resignation of another MLA. His party colleague and rebel legislator Ramesh Jarkiholi sent his resignation to the Karnataka Assembly speaker on Monday. Jarkiholi had said before some time that he and many other members of the Karnataka Congress will resign on the account of the2019  Lok Sabha elections.
CM, H D Kumaraswamy is currently in the United States. He blamed the BJP for the exit of lawmakers from his alliance partner, Congress. He is scheduled to return to India on 8th of July.
The coalition government is still way above the majority mark despite the two exits from the assembly. But this incident comes with a realization in the Congress that it cannot take this status for granted. Siddaramaiah is the Congress Legislature Party chief. He has summoned a meeting of party legislators at his Bengaluru house for a headcount, according to news agency ANI. Check out their tweet regarding the same.
Karnataka: Congress' Anand Singh submitted his resignation to the Governor from his assembly membership today. pic.twitter.com/UdHr6JOckz

— ANI (@ANI) July 1, 2019
Now, We can only wait to see how many people from Karnataka congress follow the two MLAs path.
Also Read:  Congress' Adhir Ranjan Chowdhury Insults PM Modi And BJP Government; Uses Analogy 'Gandi Nali'