Kartarpur corridor: Imran Khan lays foundation stone, Mehbooba Mufti seeks same for Kashmir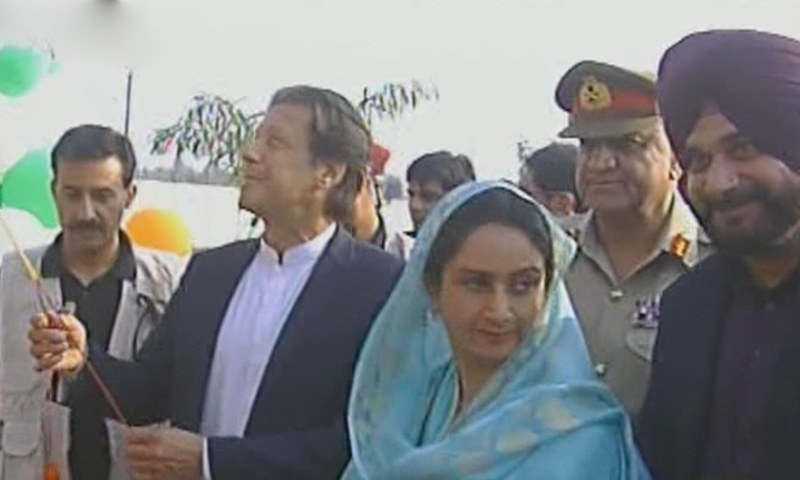 The groundbreaking ceremony for the corridor to Kartarpur Sahib held in Pakistan was inaugurated by Pakistan Prime Minister Imran Khan in the presence of India Prime Minister Narendra Modi's ministers. The development comes amid discord between the two countries over the SAARC (South Asian Association for Regional Cooperation) summit.
External Affairs Minister Sushma Swaraj said that India will not participate in the forthcoming SAARC summit unless Pakistan stopped sponsoring terrorism. She added that Kartarpur corridor would not lead India to talks with Pakistan and they have to stop terror first.
It is to be noted that the Kartarpur corridor will connect Gurdwara Darbar Sahib, one of the holiest shrines of Sikhs, the final resting place of Guru Nanak Dev in Pakistan to Dera Baba Nanak in Gurdaspur. The Kartarpur Corridor, which will facilitate a visa-free travel of Indian Sikh pilgrims to Gurdwara Darbar Sahib in Kartarpur, is likely to be completed within six months.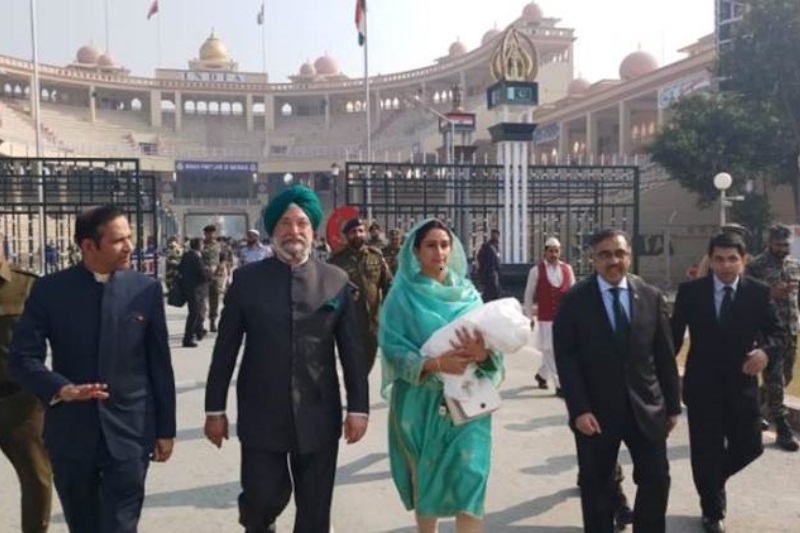 Also read: Kartarpur corridor fine, but Pakistan has to stop terror first: Sushma Swaraj
On the Indian side, the groundbreaking ceremony is being represented by two Cabinet ministers Harsimrat Kaur Badal and Hardeep Singh Puri and Congress leader and former India opening batsman Navjot Singh Sidhu. Pakistan Prime Minister Imran Khan has initiated the ceremony at the Pakistan side on Wednesday. Pakistan army chief Qamar Javed Bajwa, Union Ministers Harsimrat Kaur Badal, Hardeep Singh Puri and Navjot Singh Sidhu were present at the event.
Pakistan PM Imran Khan, Pakistan Army Chief General Qamar Javed Bajwa, Union Ministers Harsimrat Kaur Badal, Hardeep Singh Puri and Navjot Singh Sidhu at the ground-breaking ceremony of #KartarpurCorridor in Pakistan. pic.twitter.com/x9JhFLWZ1t

— ANI (@ANI) November 28, 2018
Sushma Swaraj, who skipped the ceremony last week, citing busy scheduled today said, "I already visited Pakistan, and it was me only who started the comprehensive bilateral dialogue. But what happened after that? Pathankot. What happened after that? Uri. So we have to take the big picture."
Both govts should realise that we have to move forward: Navjot Singh Sidhu
Navjot Sidhu's decision to attend the event has created a huge political controversy. Sidhu's boss and Punjab Chief Minister Amarinder Singh, has declined Pakistan's invitation citing ISI-sponsored terror attacks in Pathankot and Amritsar.
Earlier this week, Amarinder Singh also ripped apart Pakistan Army Chief Qamar Bajwa, questioning his army credentials. "Which army teaches to violate ceasefire and kill jawans on the other side? Which army teaches to send people to attack Pathankot and Amritsar? This is cowardice," Singh, a former officer of the Indian Army, said.
Addressing in Pakistan, Navjot Singh Sidhu said, "Both the govts should realise that we have to move forward. My father used to tell me that Punjab Mail went till Lahore, I believe that it can go further till Peshawar, till Afghanistan."
Navjot Singh Sidhu: Both the govts should realise that we have to move forward. My father used to tell me that Punjab Mail went till Lahore, I believe that it can go further till Peshawar, till Afghanistan. #KartarpurCorridor pic.twitter.com/SiZ07JRbN5

— ANI (@ANI) November 28, 2018
Mehbooba Mufti seeks pilgrimage for Kashmiris
Former Jammu and Kashmir Chief Minister Mahbooba Mufti took to Twitter and wrote:  "Kartarpur is a great example of how religion can bring people together instead of dividing them. It is a path envisioned by PDP founder Mufti Sb to end the turmoil in Kashmir. #SelfRule After Kartarpur, Delhi and Pakistan must facilitate Sharda Peeth pilgrimage for kashmiris."
Kartarpur is a great example of how religion can bring people together instead of dividing them. It is a path envisioned by PDP founder Mufti Sb to end the turmoil in Kashmir. #SelfRule
After Kartarpur, Delhi and Pakistan must facilitate Sharda Peeth pilgrimage for kashmiris .

— Mehbooba Mufti (@MehboobaMufti) November 28, 2018
Also read: Sushma Swaraj declines Pakistan's invitation, names two cabinet ministers