Kartarpur corridor fine, but Pakistan has to stop terror first: Sushma Swaraj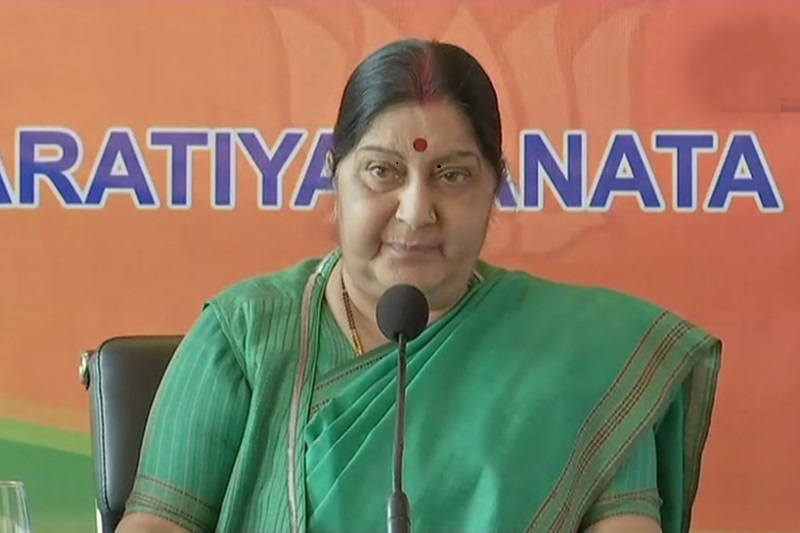 Sushma Swaraj, External Affairs Minister on Wednesday vividly said that Indian will not engage in dialogue unless Pakistan stopped sponsoring terrorists, but welcome any move toward regional peace with the development of the Kartarpur corridor.
She added that Kartarpur corridor would not lead India to talks with Pakistan and they have to stop terror first.
#WATCH For many years the Indian Government had been asking for this (#Kartarpur) corridor, only now Pakistan responded positively. It doesn't mean the bilateral dialogue will start because of this, terror & talks can't go together. : EAM Sushma Swaraj pic.twitter.com/iSPFRbyQI1

— ANI (@ANI) November 28, 2018
Addressing mediapersons, Sushma said, "Bilateral dialogue and Kartarpur corridor are two different things. I am very happy that for the last 20 years, rather many years, the government of India has been asking for this Kartarpur corridor. And for the first time, Pakistan has responded positively to this."
"But this does not mean that the bilateral dialogue will start only on this. On the bilateral dialogue, we always say terror and talks can't go together. The moment Pakistan stops terrorist activities in India, the dialogue can start," Sushma Swaraj quoted by news agency ANI as saying.
Swaraj's remark comes on a day when two cabinet ministers named HS Puri and Harsimrat Kaur Badal went to Pakistan to attend the ground-breaking ceremony of the Kartarpur corridor by country's Prime Minister Imran Khan.
Yesterday, Dr Mohammed Faisal — Foreign Office spokesperson told in a news conference that the Indian Prime Minister will be invited for the SAARC Summit.
Also read: Pakistan to invite Indian Prime Minister Narendra Modi for SAARC summit