Venkaiah Naidu lays foundation stone for construction of Kartarpur road corridor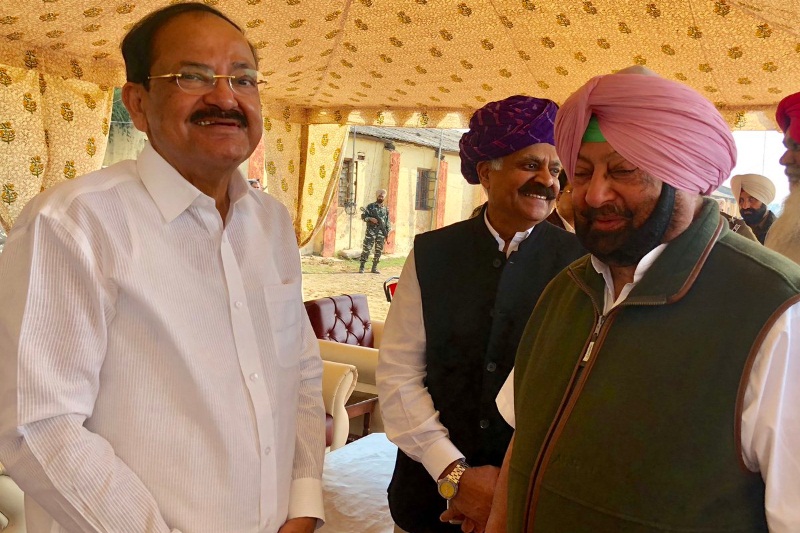 On Monday, Vice President Venkaiah Naidu laid the foundation stone for the construction of the Kartarpur road corridor. Notably, the Kartarpur road corridor will provide pilgrims an easy passage to the Gurdwara Darbar Sahib in Pakistan.
The ceremony took place in Mann village of Punjab's Gurdaspur district. Union ministers Nitin Gadkari and Harsimrat Kaur Badal and Punjab Chief Minister Amarinder Singh were present at the ceremony, which was also attended by leaders and workers of the Shiromani Akali Dal.
On the occasion, Venkaiah Naidu stated that the long-time dream of Sikhs has been fulfilled. "It is a historic day," he said adding that this will take us closer to our guru who has worked for social and gender equality and fought the caste system.
"We are happy that Pakistan has accepted our demand to construct a corridor on its side of the border. Now, we don't have to go via Attari. This corridor will be the bridge between the people of the two countries who have so much in common. The corridor will open new ways and possibilities for us," the Vice President added.
He said the objective of the function is to work for peace. "Peace is the first condition of development," Naidu concluded.
Meanwhile, Punjab CM Captain Amarinder Singh said he hoped the corridor will be constructed by the 550th birth anniversary of Guru Nanak next year. He further added that rumours that a visa will be required to use the corridor were false.
He also lambasted Pakistan for the attack in Amritsar last week that left three people dead. "I had been in the Army. I am senior to Pakistan Army Chief Qamar Javed Bajwa," he said. "Who taught us to attack people holding a religious congregation? We Punjabis know how to give a befitting reply to such forces," the CM added.
It is to be noted that the PM Modi central government on November 22 ad approved the development of the Kartarpur corridor from Dera Baba Nanak in Gurdaspur district to the International Border to mark the 550th birth anniversary of Guru Nanak next year.
The gurudwara is located at the site where Guru Nanak, the first Sikh guru, died in 1539, and is one of the holiest shrines in Sikhism. On the other hand, Pakistan has also agreed to build a similar corridor in its territory, with Prime Minister Imran Khan scheduled to lay the foundation stone for its construction on November 28.
Also Read: Punjab: Six men detained after villagers spot suspected terrorists in Pathankot