Kershaw devastated after Los Angeles Dodgers' loss to Washington Nationals at the National League Division Series
Clayton Kershaw takes the blame for Dodgers' latest flop at the National League Division Series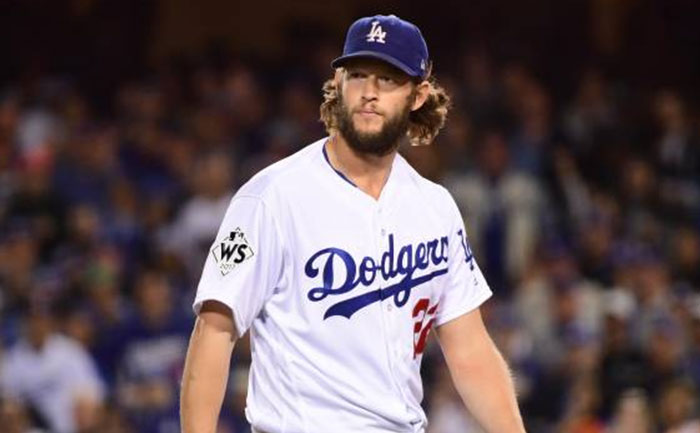 Clayton Kershaw added another painful chapter to his playoff history Wednesday night when he threw away a two-run lead with the Los Angeles Dodgers six outs from advancing to a fourth straight NL Championship series.
Pitching on full rest at home in relief of effective starter Walker Buehler in Game 5 of the Division Series against Washington, Kershaw gave up homers on consecutive pitches to Anthony Rendon and Juan Soto that tied it 3-all in the eighth inning.
"When you don't win the last game of the season and you're to blame for it, it's not fun," Kershaw said "The main reason (it hurts) is the group of guys in this clubhouse. It's a terrible feeling."
Kershaw has been the focal point of the Dodger's game almost since his arrival in LA as a highly touted prospect in 2008 at age 20.
The let-hander entered with two on in the seventh and struck out Adam Eaton on three pitches to end the inning. he never got another out though.
"It might linger for a while," he said. "I might not get over it. I don't know. Spring training is going to come and I will have to be ready to pitch and do my job the best I can."
"I'm not going to shy away from it," Kershaw said. "Everything people say is true right now about the postseason. I understand that. Nothing I can do about it right now. It's a terrible feeling. It really is. I'm not going to hang my head. I will be here next year and try to do the same thing I try to do every single year."
Kershaw served up home runs on successive pitches once before and it was also duing the playoffs when Ktel marte and Jeff Mathis connected for Arizona.
"It's not on him at all," Dodgers Max Muncy said. "It's on all of us. We're a team. There are no individual performances here."
"He's a pro. He's probably the best pitcher of our generation, and for him to make himself available tonight, and got us out of a big spot right there," Roberts said. "It just didn't work out. There's always going to be second-guessing when things don't work out. I'll take my chances on Clayton. … It's a guy that I believe in, I trust, and it didn't work out."
The Dodgers had a good season, winning 106 games and their seventh straight NL West crown. However, after losing the world Series finale on their home field for the past two years, they remain without a World Series championship since 1988.