Akshay Kumar Opens Up On Massive Fire Erupted On The Sets Of Kesari
'The entire Kesari set burned down,'Akshay Kumar talks about the massive fire occurred during Kesari shooting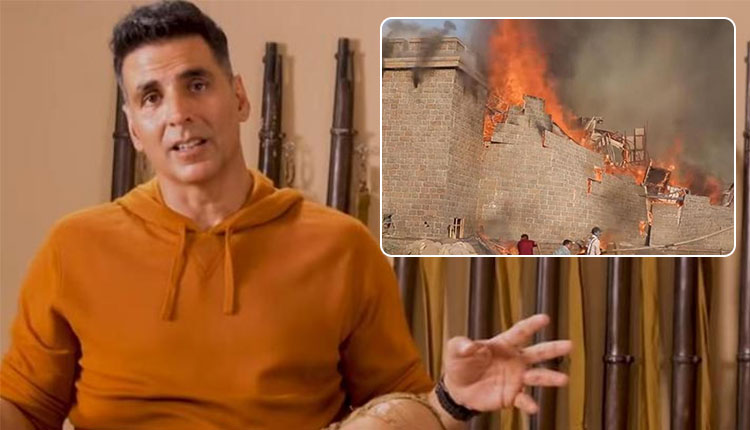 Bollywood actor Akshay Kumar, who is currently riding high on the success of his last release 'Kesari' has just opened up about the massive fire erupted on the sets of Kesari last year. In behind the scenes  (BTS) video, Akshay Kumar is seen speaking about how the fire occurred at 'Kesari's set and what happened thereafter. It is to be noted that, Kesari received rave reviews from both audience and critics alike, but it was leaked by piracy website Tamilrockers and is now available to watch and download in HD quality. 
Speaking about the fire, Akshay Kumar said, "We had already almost finished all the shooting and were about to shoot an important portion for our battle. We were all set, there were about seven cameras, but then suddenly, there was fire. Within seconds, the entire set was engulfed in fire, even before anyone could react. We didn't realise there was something that just took off and the entire set literally melted away."
It is to be noted that the fire erupted merely 10-12 days before the film's shoot was supposed to end. But, the entire set was burned down and it was difficult for the entire cast to finish the shoot at the scheduled timing.
In the video, director of the film, Anurag Singh says, "We were there for four months, you get attached to a place when you stay there. I think all of us were crying when we saw the set burn down." 
Anurag said that ace filmmaker Karan Johar asked him not to worry and told him that it was God's will, "Next day, Akshay sir comes and takes me to the side and tells me 'what is done is done, let us plan ahead. I was like ''wow!' He was not thinking about the loss So I talked to Karan (Johar, producer) sir because this was he guy who invested so much money,"
"I would say full marks to the director on how he created an alternative plans and how the different teams including production, design, VFX, went about recreating the set through set extensions and visual effects, that too in Mumbai," Akshay concluded.
Watch the second part of making of Kesari:
Also Read: Kesari Full Movie Leaked Online To Download By Tamilrockers