Viral Video: Kim Kardashian's daughter North's dance proves she is a rockstar
Kim Kardashian and Kayne West's oldest child North's dance video is going viral.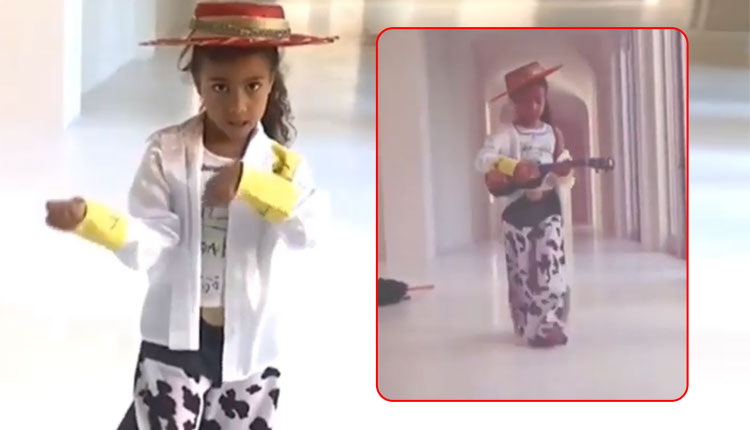 Kim Kardashian is the mother of four now. Her oldest child North West is a born dancer and a dance video of her is going viral on the internet. Kim took to her Instagram handle to share the video by her 5½ daughter. Sharing the video, she wrote, "What we do on maternity leave … Directed and Choreographed by North ?"
Have a look at the video here.
In the video we see Kim entering the frame playing a tiny guitar and then her kiddo North comes with a guitar and dance to the song Old Town Road by Lil Nas X ft. Billy Ray Cyrus. She is seen in complete cowboy avatar and is seen trying to lip sync the song and going by her dance moves we can surely say that she has got this from her father Kanye West who is also a rapper, and songwriter.
Kardashian and West welcomed their fourth child a few days back. The KKW Beauty mogul shared a screenshot of her tweet (that read: He's here and he's perfect) on her Instagram handle. Sharing it, she wrote, "The clan keeps growing. Can you guess the baby's name??"
Kim and Kayne are in happy space now and they are trying to be the best parents for their children. PEOPLE quoted a source saying, "She (Kim) has a bit of a lighter schedule right now so she can bond with her baby. She seems very happy. And Kanye loves the energy of having a newborn. A new baby to love and get to know is so special for the whole family."
For more such updates, stay tuned to our space.
Also Read: Kim Kardashian And Mom Kris Jenner Look Twins In Mothers' Day Post