Kimbho app mysteriously disappears from Google app store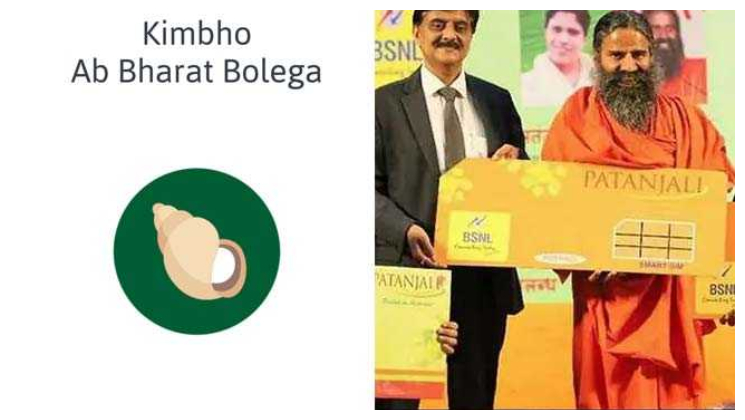 Baba Ramdev's new swadeshi venture Kimbho Ab Bharat Bolega?                     
launch of India's first swadeshi sim card, available in saffron colour obviously!!
which was followed by the launch of swadeshi messaging application named "Kimbho"
Yoga guru swami Ramdev's Patanjali launched new messaging application, "Kimbho", pitching it as a challenge to popular messaging app WhatsApp, however in a shocking turn of events users are no longer able to find it on Google Play Store. The app, which was launched on Wednesday, is still seen on iOS App Store and the real time messaging app is still accessible by those who previously downloaded it.
Kimbho the swadeshi messaging app has not picked up the popularity that Baba dreamed of, till midnight of 30th May 2018. The total download was 5k at 10-54pm and as was noted on 1st June 2pm the number of installation was 10k.
Is Kimbho safe?
The messaging app from swadeshi Yoga guru Baba Ramdev, has been tagged as a "security disaster" by experts. Well-known French security researcher Elliot Alderson claimed on Twitter that he could easily access all the messages of the user, which raises security and privacy concerns. He also showed a video how easy it was by adding that "it was possible to choose a security code between 0001 and 9999 and send it to the number of your choice".
As per Elliot Alderson Kimbho is the exact copy of another messaging app Bolo message, claiming to have the same description. Faisal Kawoosa, Head New Initiatives, Cybermedia Research (CMR), said that it will not be easy for "Kimbho" to create a space dominated by WhatsApp for just on being "Swadeshi."
The 'Kimbho' app has been seen as a 'swadeshi' rival to WhatsApp, one of the most popular messaging apps in India with over 200 million users. It offers similar features as WhatsApp and it is free to download. Unfortunately, the app has seen many negative reviews, with a number of people facing issues to send messages to contacts and so on.