Catherine Zeta-Jones shares Kirk Douglas' relationship advice to son Michael Douglas
Catherine Zeta-Jones and Michael Douglas recently celebrated their 19th anniversary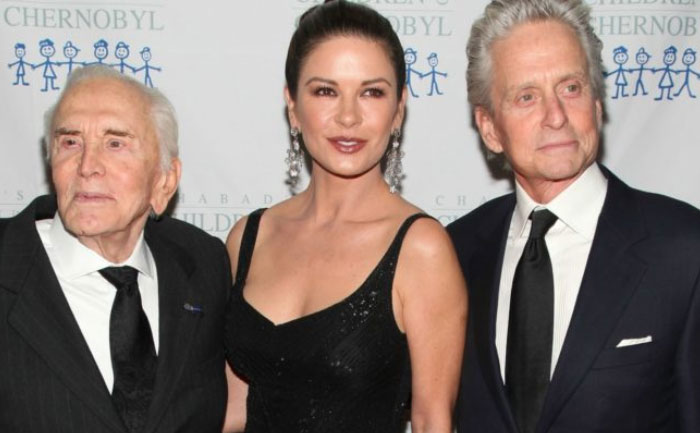 Kirk Douglas, the last surviving star of the Hollywood Golden Age, has some sage advice for son Michael Douglas on his 19th wedding anniversary. Daughter-in-law Catherine Zeta-Jones shared the note from her father-in-law as the couple celebrated their 19th wedding anniversary.
The Ocean's Twelve star shared the note in an Instagram post with a black-and-white photo of herself and Michael. She captioned the post, "Dancing in to our 20th year! Happy Anniversary my love. Such a beautiful letter from my father in law. I am touched."
Kirk's advice to Michael was a witty one. The 103-year-old actor wrote "Dear Michael and Catherine, Happy anniversary! Michael, you learned a very important lesson, to stay married you must obey your wife! Keep practicing what I do with my wife."
Michael Douglas and Catherine Zeta-Jones celebrate 19 years together
Michael Douglas and Catherine Zeta-Jones met each other at a film festival in 1996. The two got married in November 2000, 3 months after the birth of their son Dylan.
The Hollywood power couple has had their share of ups and downs during their 19 years of marriage. The two withstood the test of Michael's cancer treatment in 2010 and Catherine's diagnosis with bipolar II disorder.
The duo was seen together in 2000 Drama/Crime movie Traffic.
The fans were quick to respond, wishing Michael and Catherine all the happiness. One fan wrote, "Happy Anniversary, that letter is all truth". While another fan commented "That letter from Kirk is pure love,"
Kirk Douglas has been married to Anne Buydens for 65 years. In 2017, they released their memoir 'Kirk and Anne: Letters of Love, Laughter, and a Lifetime in Hollywood'. The book is a sneak peek into the life of the two and has all the letters written by Kirk Douglas to Anne Buydens.
ALSO READ: Avengers: Endgame: Robert Downey Jr, Mark Ruffalo And Others Get Immortalized