Cyclone Amphan leaves Kolkata airport flooded, structures damaged in West Bengal
Reports suggest that at least 12 people died in Kolkata due to the cyclonic storm as it battered the city for hours.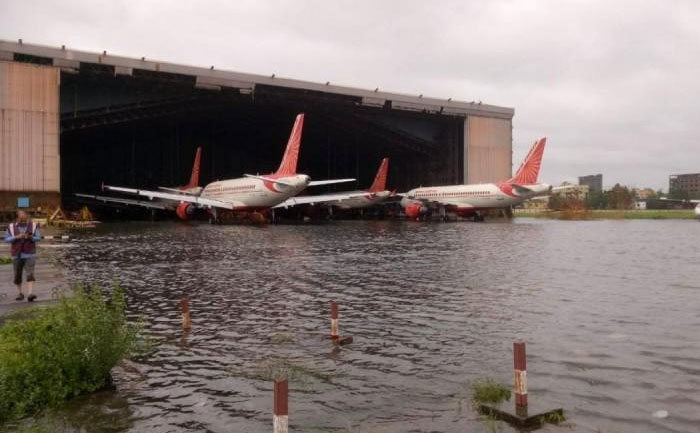 Cyclone Amphan, one of the worst storms over the Bay of Bengal has left a trail of destruction in Bengal and Odisha. Due to the wrecking winds, it left the Kolkata airport flooded and many structures within damaged. It has killed at least 12 people and left a trail of destruction in its wake.
On Wednesday, all flight operations, including special flights at Kolkata Airport were suspended till 5 am today, in view of cyclone Amphan. Runways and hangars were seen flooded, while the roof in one part of the airport had caved in.
According to the officials, two hangars have been destroyed beyond restoration, but they were brand-new. An aircraft was seen in knee-deep water. The image shows the roof having caved in, while the runway is seen submerged.
Here are the photos:
West Bengal: A portion of Kolkata Airport flooded in wake of #CycloneAmphan. pic.twitter.com/J4vqFW39no

— ANI (@ANI) May 21, 2020
Meanwhile, large parts of Kolkata and other affected districts were without electricity as power poles had been filled up. Mobile and internet services were also down as the cyclone had broken some communication towers.
On May 20, Cyclone Amphan slammed into Bengal, uprooting trees, damaging power lines and destroying many buildings in Kolkata and other parts of the state. Chief Minister Mamata Banerjee said the impact of Amphan was worse than the coronavirus pandemic. She added that the damage due to the cyclone could be in the region of Rs 1 lakh crore.
The cyclone, whose eye was about 30 kilometer in diameter, made landfall with gusting winds of up to 185 kmph and waves about 15 feet tall. Over five lakh people have been placed in shelters in West Bengal and over one lakh in Odisha.
Stay tuned to The Live Mirror for more updates.