Kriti Sanon bashed by netizens for posing with a life-size giraffe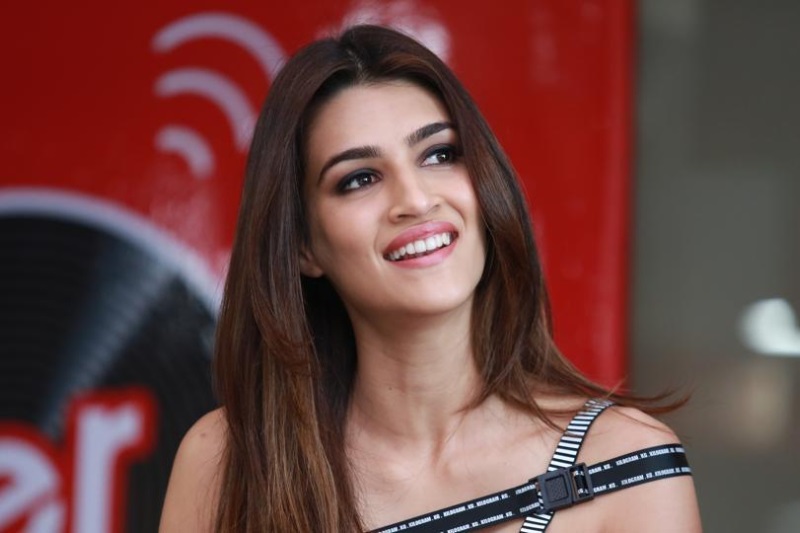 Internet users are upset over Kriti Sanon for posing with a life-size giraffe for Cosmopolitan India's August issue. In the picture posted by the magazine's official Instagram account, the actress can be seen in a black high-neck top paired with silver tassel trousers and black stilettos, striking a pose with a giraffe that appears to be taxidermied.
The word taxidermy refers to the process of preserving the animal, but the word is also used to describe the end product, which are often called 'mounts'. Hence the life-size giraffe in the picture appears to be suspended in the air.
As soon as the magazine posted the picture, people on internet started bashing through comments, criticising animal torture. A user commented, "Such a shame! You guys are so shameless. Talking about atrocities while portraying animal cruelty in the name of fashion."
The picture sparked some controversy, as the actress posed, showcasing her fierce side with a taxidermied giraffe while preaching about woman empowerment. Though the idea was not to hurt anyone's sentiments but it was not well received by netizens.
Demanding an apology from Kriti, another user commented "You should take this post down. And delete that picture! And like apologise to every f*****g giraffe. Actually the entire animal kingdom. You want to make a point of subjugation with more subjugation. Ridiculous!"
Following this chaos, later Cosmopolitan India added a note saying, "Aynhoe Park features taxidermy, hundreds of years old, most from museums. Taxidermy is the art of preserving an animal that died of natural causes, for academic purposes. The giraffe featured here is floating (not hanging, heavens no!) with balloons on its back. An art installation, in what is possibly one of the eclectic yet most majestic mansions in the world."
Further they added, "Cosmo loves, no, is obsessed with animals. We were, possibly, the first magazine in India to ban the featuring of fur, three years ago. No animals were harmed before, during, or after this shoot. We may be guilty of watching too many puppy videos during work hours, though."
After this note, even Kriti responded saying, "It was a normal photoshoot in a palace kind of hotel in London; the decor was in the wildlife zone. It's all fake. I am an animal lover."
Also Read: 7 upcoming Bollywood biopics to look out for !!!
Here are some other picture of Kriti Sanon who not only an actress but also a model:
Also Read: Oops! Did these Bollywood celebs confess something that is shocking?