Kendriya Vidyalaya Sangathan Pune Admission 2019-20 – Download Guidelines PDF
For 2019-20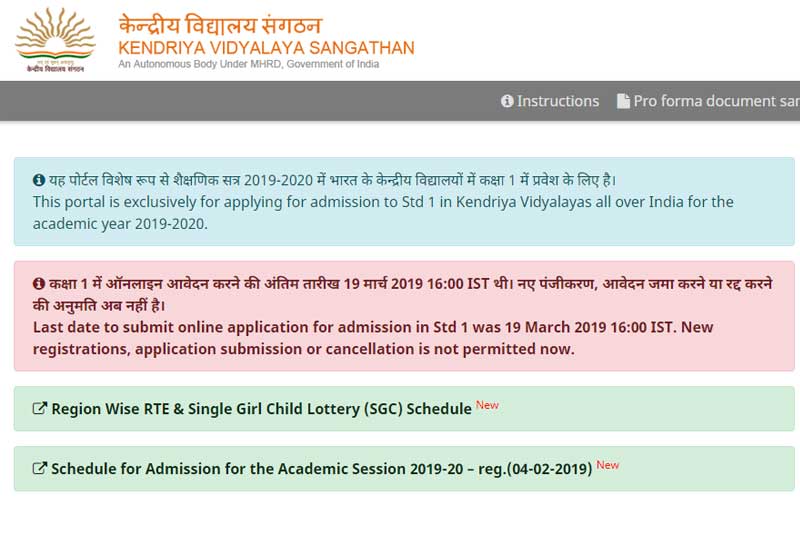 Kendriya Vidyalaya Sangathan (KVS) issued the first list of selected kids for Class 1. Second Merit List for Class 1 will be announced on April 9 and April 23. The list will be declared on the basis of available seats.
KVS online admission for Class 1 in Kendriya Vidyalaya schools for sessions 2019-2020 was started on March 19, 2019. For Class 2 (except Class 11) the online admission will start from April 2 at 8 am and will end on April 9 at 4 pm. For Class 11 the application form will be issued after CBSE Class 10 results.
Click here to Download Admission Guidelines, you can go through the age requirements, cut-off marks and all other necessary requirements for upcoming admission. For applying for online visit KVS Online Admission. For merit list visit KVS Sangathan official site for more info.
The ongoing online registration process for admissions in Class I came to an end today. KVS has received 7,95,121 applications for more than 1L seats of Class I available in 1202 #KendriyaVidyalaya across the country@SantoshKMall1 @unkhaware @saurabh_iit @HRDMinistry pic.twitter.com/6pdk95Ax72

— KVS HQ (@KVS_HQ) March 19, 2019
There are in total 1,137 Kendriya Vidalayas in India, KVS received 7,95,121 Applications for more than 1Lakh seats for Class I available in 1202 KVS school across the country.