Kyoto Animation fire: 12 feared dead after suspected arson attack…
12 dead and many injured after suspected arson attack at Kyoto Animation studio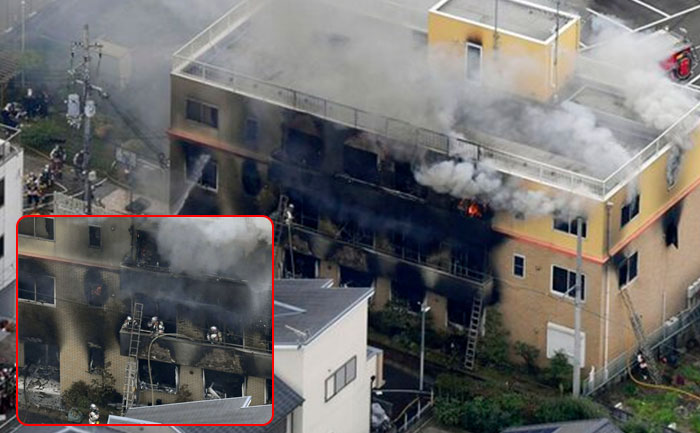 An explosion shook the popular Kyoto Animation studio leaving 12 dead and many injured. The studio is one of Japan's most renowned anime studios. An explosion was heard around 10.30AM local time. About 30 fire engines were mobilized to extinguish the fire. At least 12 people are feared dead and dozens are injured. Some 30 people still remain unaccounted. Rescue operations are still ongoing.
A man in his 40's is being questioned by the police. He was seen spreading and lighting a gasoline-like liquid in the 1st Studio building. It is said to be where most of Kyoto Animation's mainline production takes place.
The Mainichi Shinbun newspaper reports that, The man allegedly entered the Kyoto Animation building in Fushimi Ward in the western Japan city of Kyoto at around 10:30 a.m. He poured what appeared to be gasoline around and set fire to it. The man was injured and admitted to a hospital. The suspect who is in his 40s told prefectural police that he set fire to the building. Police are treating the case as arson.
Eyewitnesses described a loud explosion followed by an inferno that rapidly engulfed the building, reports the BBC's Tokyo correspondent Rupert Wingfield-Hayes.
京アニ第1スタジオが燃えてる pic.twitter.com/zVtP6STGMn

— ヤノパイセン (@mipyong1) July 18, 2019
"We are trying to bring out several victims who are trapped inside the three-story building, including ones who may not be able to move by themselves," a fire department spokesman told AFP.
It is not clear why the man took such an extreme step.
Kyoto Animation, known as KyoAni, was founded in 1981 and has produced popular animation shows including 'K-On' and 'The Melancholy of Haruhi Suzumiya'.
Also Read: Nvidia To Deploy Cloud Gaming Servers In Japan & Korea