Last Qantas 747 flight draws iconic kangaroo in the sky
On Final 747 Flight, Qantas Jet Draws Iconic Logo In The Sky On Its Final Journetfinal journey from Australia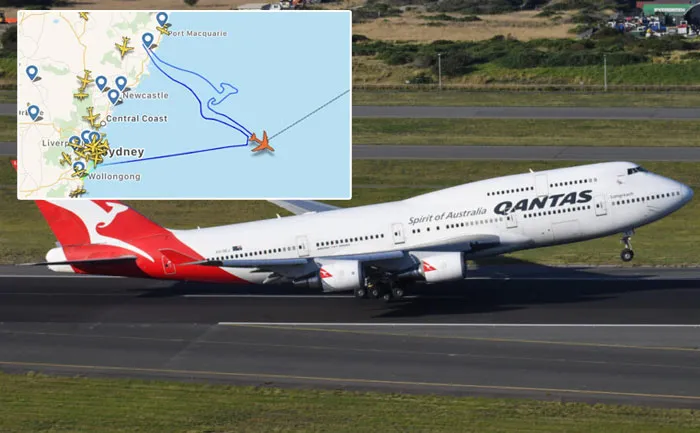 After 50 years of flying, Qantas' last remaining Boeing 747 passenger jet departed Australia for the final time. To mark the occasion the airways last Boeing 747 drew a kangaroo tail in the sky off the Australian coast.
After taking off from the Sydney Airport for Los Angeles, the airline's pilot charted a flight path to draw the company's iconic kangaroo symbol in the sky. The plane is bound for retirement in the Mojave Desert.
#LIVE: The last Qantas Boeing 747 jumbo jet is about to leave Australian skies for the final time.

It's set to take off from Sydney Airport, bringing to an end to five decades of history for the national carrier. #9News https://t.co/9Dui0nAI0W

— Nine News Sydney (@9NewsSyd) July 22, 2020
People gathered at Sydney Airport to bid farewell to the plane, which received a water salute before departure. The aircraft goes into storage at a boneyard in the Mojave Desert.
Qantas's first woman Captain, Sharelle Quinn, who is in command of the final flight said, "I have flown this aircraft for 36 years and it has been an absolute privilege. From the Pope to pop stars, our 747's have carried over 250 million people safely to their destinations. Over the decades, it's also swooped in on a number of occasions to save Aussies stranded far from home."
Qantas took delivery of its first 747 in August 1971. It has carried more than 250 million people in almost half a century of service. It also carried out a number of rescue missions. The most recent being bringing stranded Australians from Wuhan, China.
Also Read: World backs Australia's push for independent coronavirus inquiry