Lava Announces 1 Year Replacement Offer On Feature Phones
No Replacement No Repair, Get A New Phone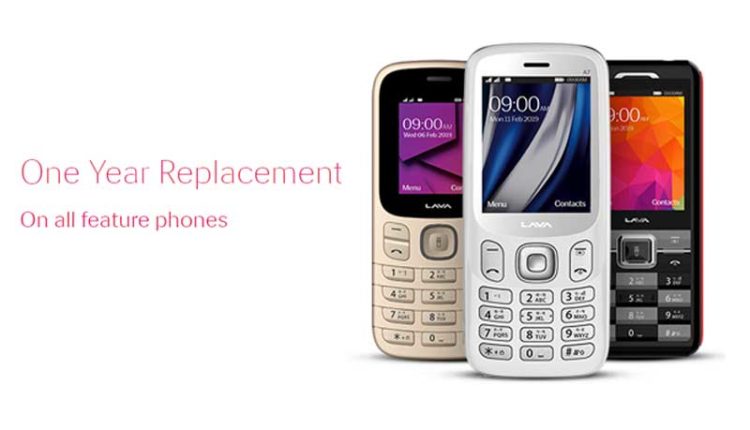 Lava announced a unique scheme on the applicable featured phone that will allow users to have a brand new phone instead of getting a repaired one if it stops working within one year. 1 Year Replacement scheme is applicable on Lava A1, Captain K2, A7, 34 Super, Lava One, Gem and Spark i8.
According to the terms and conditions published on the official website, through this offer user will have a chance to get a new model but they can also ask to repair existing one on their choice. The offers will be applicable on above phone models on or after March 6, 2019. Any device with hardware part failure, ELS Pass within 1 year from the date of purchase is eligible for the offer.
Coming to Accessories, Lava also adds 6 Month replacement on Charger, Battery and Cosmetic parts. So these two replacement offers work separately for the handset and for the accessory. Below are points from the official terms and conditions of the offer, do read it or visit the Source link to know more.
Terms & Condition:
Product Failure which can be resolved without the need of any hardware/part replacement like Software updates , accessory(earphone, charger, data cable, battery, cosmetic parts) replacement, re-soldering, re-assembly, cleaning, customer education, battery boost is not covered under 1 Year replacement offer.
1 Year replacement offer shall be applicable for one-time replacement only. For any subsequent product failure, repair shall be carried out on the product as per warranty conditions mentioned on the warranty card.
ELS failed handset is not cover under 1 year replacement offer.
The replacement model shall be of the same model or similar specification model basis availability and as decided by Lava.
Customer can avail repair of handset instead of a replacement handset as per his/her own discretion.
In the event of replacement, the replaced handset will be deemed under warranty for the remaining period of time as per original IMEI.
Lava shall have the right to validate date of purchase on basis of handset activation (Tertiary sale) date captured in Lava system/Original Proof of Purchase of the device, as the case may be.