The best TV shows & Movies to watch on Netflix in November 2019
From original series like Black Mirror and Stranger Things and The Crown to TV favourites like Good Girls, Dark and more, check out the all-time best series currently streaming on Netflix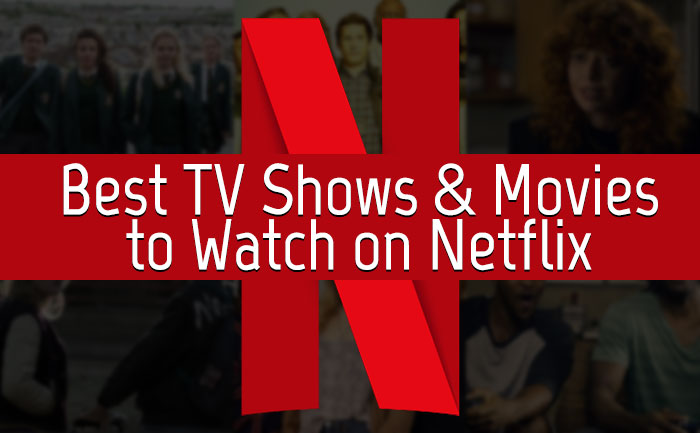 Are you looking for next binge-watching? Do not worry, Netflix has plenty of new TV shows or movies which will keep you engaged in front of the mobile or PC unless or until the TV shows or movies end. We have brought you Netflix's original TV series, movies and all-time favourites to keep you busy on this weekend or upcoming festivals. The following is the list of the best TV series on streaming on Netflix.
There is no doubt Netflix is like an ocean when it comes to providing Original TV shows, Movies or TV series. Despite having tons of movies, Netflix continues to upload or produce new or original TV shows, movies or TV series for its users. Netflix — which rose to fame in India due to Sacred Games — has recently released its second season featuring Saif Ali Khan and Nawazuddin Siddiqui's web series.
If you are struggling to find the list of best movies to watch on Netflix, you have come to the right place. We all know Netflix itself suggest movies to watch on its platform but sometimes their recommendations are a little bit frustrating. Making your work easier, we have created a list of brilliant cult favourites and award-winning movies featuring Hollywood stars on Netflix.
With a new web series, TV shows or movies to stream added to the list every day, you'll never be stuck for what to watch on Netflix again. Check out the list below. We have tried to cover from all the biggest Netflix Original movies to the best TV series, the following is the list of best films and TV shows to watch on Netflix this month.
If you have already watched Sacred Games 2, we have brought you a bunch of new movies, TV Shows or web series to watch in this week of August 2019. From Derry Girls, Brooklyn Nine-Nine, Dark, Good Girls, Black Mirror, Russian Doll to The Crown, there are scores of Netflix original movies, TV shows or web series you watch on Netflix for free.
The best TV shows to watch on Netflix
1. Derry Girls — IMDB Rating 8.3/10
Derry Girls is a British sitcom created and written by Lisa McGee. Produced by the Hat Trick Productions, Derry Girls has received rave reviews from both critics and audiences alike. The sitcom has managed to enter the list of best IMBD rating TV shows. Yes, Derry Girls has got 8.3/10 and 98% rating from Rotten Tomatoes.
The TV show Derry Girls is set in 1990. It is not Netflix original TV show, it was broadcast in January and February 2018 on Channel 4. The second series, consisting of six episodes, premiered on Channel 4. The story of the Derry Girls revolves around a bunch of students navigating their teenage life during The Troubles in Northern Ireland in the 1990s – explores the usual teen melodramas through the prism of international conflict.  You can watch Derry Girls on Netflix. 
Brooklyn Nine-Nine is an American TV show streaming on Netflix. Created by Dan Goor and Michael Schur, the story of the show revolves around Jake Peralta (Andy Samberg) — an immature but talented NYPD detective in Brooklyn's 99th Precinct —  often comes into conflict with his new commanding officer, the serious and stern Captain Raymond Holt (Andre Braugher).
The ensemble cast of the show includes Stephanie Beatriz as Rosa Diaz, Terry Crews as Terry Jeffords, Melissa Fumero as Amy Santiago, Joe Lo Truglio as Charles Boyle, Chelsea Peretti as Gina Linetti, Dirk Blocker as Michael Hitchcock, and Joel McKinnon Miller as Norm Scully. The TV show Brooklyn Nine-Nine was premiered on 17th September 2013 before its eventual move to NBC. The TV show Brooklyn Nine-Nine has received rave reviews from one and all. The show has been rated 8.4/10 by IMDB. You can watch Brooklyn Nine-Nine on Netflix. 
3. Dark — IMDB Rating 8.7/10
Dark is one of the highest-rated German science fiction thriller web series. Co-created by Baran bo Odar and Jantje Friese, Dark is set in the fictional town of Winden, Germany. The web series showcases how scenarios changes following a child disappear, which exposes the secrets of, and hidden connections among, four estranged families as they slowly unravel a sinister time travel conspiracy spanning three generations. The series shows the existential implications of time and its effects on human nature.
Similar to Sacred Games, Dark is the first German-language Netflix original series. The series premiered on Netflix on 1st December 2017. The first season of the Dark received an overwhelming response from audience and critics alike. The web series is being compared to several Netflix original shows such as Stranger Things. You can watch Dark on Netflix.
4. Good Girls — IMDB Rating 7.9/10
Good Girls is an American crime-comedy TV show streaming on Netflix. Created by Jenna Bans and Produced by Bans, Good Girls turned out to be one of the most popular TV shows streaming on Netflix. The first season of Good Girls was premiered on 26th February 2019. Looking at the popularity of first and second season of Good Girls web series, NBC has come up with its third season, which has 16 episodes.
The story of the web series revolves around three suburban Michigan mothers, two of whom are sisters, who face a tough time to make their ends meet. After having gone through so many bad days, they decided to pull off an unlikely heist by robbing a supermarket, only to discover that they're in for more than they bargained. Somehow they manage to rob the grocery show attracting the attention of the store manager after he recognizes one of the women, but for a different reason altogether than just the money. You can watch Good Girls on Netflix.
The first two series of Black Mirror — one of the best web series in the world — was premiered on the British TV Channe 4 in 2011 and 2013 respectively. Looking at the popularity of the British science-fiction anthology TV series, Netflix came forward and bought the programme in September 2015. The third and fourth season of Black Mirror released on Netflix on 21 October 2016 and the latter on 29 December 2017. A standalone interactive film titled Black Mirror: Bandersnatch was released on 28 December 2018. The fifth season of Black Mirror consisting of three episodes was released on 5 June 2019.
According to reports, Black Mirror was inspired by older anthology series like The Twilight Zone, which were able to deal with controversial, contemporary topics without fear of censorship. Due to its gripping story, Black Mirror has got positive reviews from critics and audiences. The two episodes of the series named "San Junipero" (from the third series) and "USS Callister" (fourth series), won a total of six Emmy Awards, with both episodes winning Outstanding Television Movie. You can watch Black Mirror on Netflix.
The popular series returned on the Netflix on July 4, 2019. Created by Duffer Brothers, the television hit series puts its entire attention on group of children and adults who somehow unintentionally are involved in the supernatural things that has taken place in their home town. The season plot line is where the setting is back in the year of 1985 in summer time where characters have to go through weird, strange things that is occurring around Hawkins by which following the trail they find out that Russians are in attempt to re-open the upside down and also the fact that Demogorgon is alive.
In the Third Season, Harbour, Ryder, Wolfhard, Brown, Matarazzo, McLaughlin, Schnapp, Sink, Dyer, Heaton, Buono, Keery, and as well as Montgomery come back. The series has about eight episodes. Though the second season ended in a puzzling, foreboding away, the season 3 of Stranger things promises a good watch. It is although the most hard-core brutal and grossest season until now. You can watch Stranger Things 3 on Netflix.
The American comedy-drama web series is one that you are going to binge watch. The television series is released on Netflix. Mostly, the series revolves around the story of Payton Hobart (Platt), who is a rich Santa Barbaran. In every season, you will get to see a unique, political race which the main character gets involved in. For the unversed, its first season was released on 27 September, 2019. The politician starred actors like Ben Platt, Gwyneth Paltrow, Jessica Lange, Zoey Deutch, Lucy Boynton, Bob Balaban, Laura Dreyfuss, David Corenswet , Julia Schlaepfer, Theo Germaine, Rahne Jones, as well as Benjamin Barrett. This series has the setting at Saint Sebastian High school in California which is fictional.
Apparently the whole comedy-drama is more like the 90's throwback or the flashback into that past gone with some political message but also it equally unfolds the present generation mindset and way of looking things. The genre is created by Ryan Murphy, Brad Fulchuk and Ian Brennan. There are eight episodes in the season. You can watch The Politician on Netflix.
This one series that is trending since a long while and no matter  how many episodes you will watch, you will never get bored at it. The teen drama web series has all the elements to make the viewer glued to their seats. 13 Reasons Why is a controversial teen drama that shows about teen suicide that later on becomes quite a lot controversial especially in the first  season. The mystery is about a high school teenage girl student called Hannah Brown who kills herself. The season three is all about who is behind the responsibility of the death of Bryce Walker. The season 3 is basically all about a redemption tour especially for the character Bryce. Basically put, the theme of the web series is every individual is at war with themselves somewhere in their own life.
The mystery, teenage drama series is developed by Brian Yorkey. The series is based on the novel of the same name written by Jay Asher. You can watch 13 Reasons Why on Netflix.
Living with Yourself is the latest Netflix series to watch out for. The comedy-drama series depicts about the story of a man who underwent a strange treatment that gives him the solace of a better life if anything else. However, he finds out later that he has been mysteriously replaced by cloned version of himself. There are two central characters in the show. Paul Rudd as Miles Elliot and Aisling as Kate Elliot. In this series, there are 8 episodes to watch at leisure. The humour in the series is real which is why you are going to like it a lot. The seemingly natural inevitability of the series is something that you will absolutely like it. You cannot predict whatsoever what could happen in the next episode.
The season explores self-sabotage, loneliness and how the material successes doesn't give one the satisfaction they are often looking for in the outside world. Living with Yourself is created by Timothy Greenberg. You can watch Living with Yourself on Netflix.
Jumanji: Welcome to The Jungle is a fantasy, adventure, comedy film. Directed by Jake Kasdan, the film is basically a third installment from Jumanji franchise. The story is about teenager Alex in Brantford who is apparently given Jumanji board game by father. However, he discovers it one day on the beach as it was discarded into river 27 years previously. Not really interested into the thing, he puts the game aside. Things surprise him as the same night, the board game shockingly transforms into a video game cartridge. That's not it, it also catches the attention of Alex when he wakes up with a start from the rattling Jumanji drum beats. Showing interest, when he begins starts playing the game, he vanishes into the game.
The synopsis of the popular film is that four teenagers are in detention when they find the video game console with a particular game. When they make their mind to play they are sucked into the game and enter the jungle world of jumanji in the bodies of their avatars. . The only way to get out of the game is to participate in it. Directed by Jake Kasdan, the film unravels the mystery of the jungleYou can watch Jumanji: Welcome to The Jungle on Netflix.
Also Read: Best Horror Movies To Watch On Netflix