Locust Swarms Invade The Delhi-Gurugram Border-Watch Videos
The Residents Of Gurugram Reported Of Waking Up To The Sighting The Attack Of Locusts Swarms. Videos Goes Viral On Twitter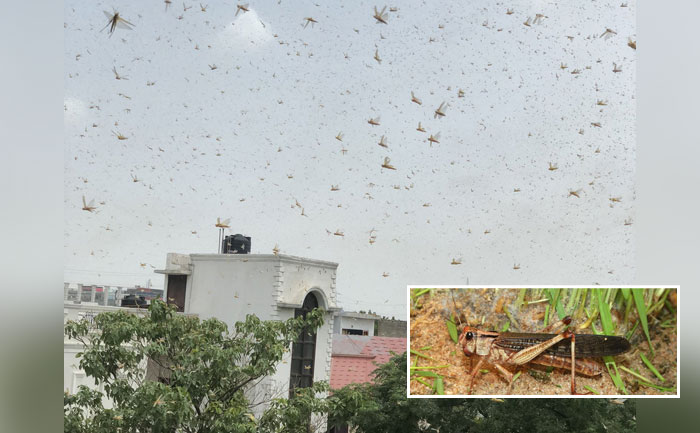 As reported by the people of Gurugram on social media, the skies over many parts of the city turned dark on Saturday. after the swarms of locusts invaded the human habitation. Apparently, the dark spread of swarms touched the Delhi-Gurugram border but did not enter Delhi.
People in Delhi's Ayanagar have reportedly noticed the swarms of the insects. The sightings were soon reported from five places in Gurugram including the industrial unit of Maruti Udyog. Netizens took to their Twitter handles and posted the videos. Take a look at videos of locust attack.
👉#LocustsAttack has reached Delhi-NCR

👉Currently in Gurugram

👉Sealing Delhi-Gurgaon border in this case won't help… because Pancchi, TIDDIYAN, pawan ke jhonke, koi sarhad na inhe roke 👇 pic.twitter.com/zGt0WfYyMo

— Saahil Murli Menghani (@saahilmenghani) June 27, 2020
Are Locust tasty when cooked?
Asking for friends in Gurgaon…..!#LocustsAttack pic.twitter.com/CAKoiFWptQ

— Krishna (@Atheist_Krishna) June 27, 2020
#LocustsAttack happening right now in Gurgaon… pic.twitter.com/ZoicVgge0c

— The-Lying-Lama 2.0 (@KyaUkhaadLega) June 27, 2020
"As you can see, there are SO many locusts"

Video from Heritage City, Gurgaon.#LocustsAttack pic.twitter.com/QiC1kl54em

— Zeba Warsi (@Zebaism) June 27, 2020
Locusts at my in laws' in Gurgaon 😱😱#LocustsAttack pic.twitter.com/hl0Q20SJgT

— Shine 🦋 Shimmer (@JesuAbRam) June 27, 2020
Gurgaon under #LocustsAttack Be careful everyone and the video source received this on a whataapp today morning pic.twitter.com/iBPuf3IvgD

— Nidhi Bhatia (@LkonidhiBhatia) June 27, 2020
For more such updates, stay hooked on to The Live Mirror.
Also Read:  After Ravaging Jaipur, Swarms Of Crop Eating Locusts Enter Maharashtra