8 Coaches of Lokmanya Tilak Express Derail in Odisha, 20 Passengers Injured
8 Coaches Of Lokmanya Tilak Express bound for Odisha from Mumbai Derail In Odisha, 20 Injured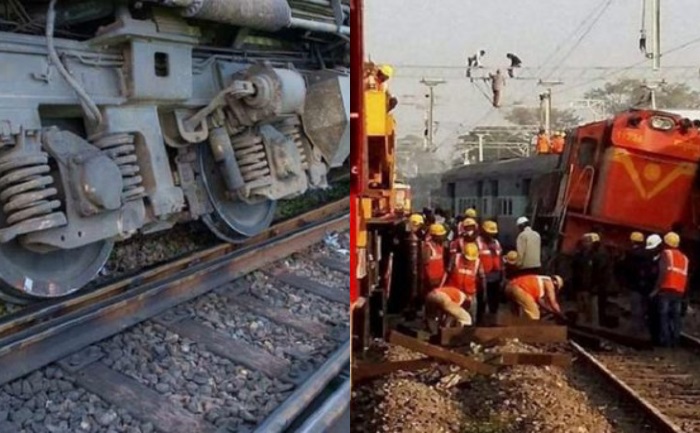 More than 20 people were injured when Mumbai-Bhubaneswar Lokmanya Tilak Express hit a goods train near Cuttack in Odisha. The shocking incident took place around 7 am on Thursday morning. Eight coaches of the express have derailed. The mishap took place possibly because of low visibility due to dense fog.
8 coaches of Mumbai bhubaneswar lokmanya tilak terminus train derail near cuttack
40 people injured#LokmanyaTilakExpress #anmnewshttps://t.co/MydfWkoupp

— SUBHENDU PATHAK (@subhenduspeaks) January 16, 2020
Chief Public Relations Officer (CPRO), East Coast Railway, said: "Twenty people were injured after eight coaches of Lokmanya Tilak Express derailed near Salagaon. No casualty has been reported till now."
Visuals showed injured passengers being taken to an ambulance as the train stopped between Salagaon and Nergundi stations after the collision. A lot of passengers were also seen de-boarding the train with their luggage amid chaos. All those injured were admitted to a nearby hospital and they are said to be out of danger, officials said.
#UPDATE Odisha: Five trains have been diverted, after eight coaches of Lokmanya Tilak Express derail near Salagaon. No casualty reported till now. https://t.co/yJkwJX4Hr3

— ANI (@ANI) January 16, 2020
Authorities said the exact number and nature of injuries were being worked out. Five trains have diverted soon after the collision disrupted rail traffic, news agency ANI reported.
More details awaited.
Also Read: Amritsar train accident: After calling it'trespassing', Railways agrees to probe