London Bus Attack: Gay couple brutally beaten for refusing to kiss
London Bus Attack: Four teenagers, aged 15 to 18, arrested over homophobic bus attack on a gay couple...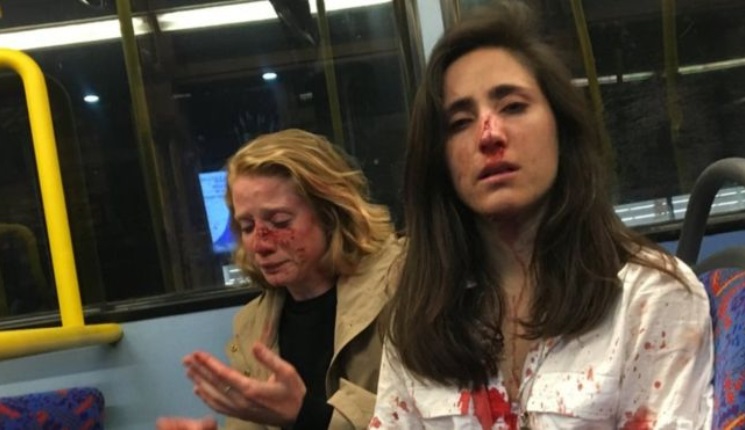 A gay couple who was out on a date was brutally beaten by a group of teenagers on a London Bus. Melania Geymonat, an Uruguayan flight attendant,  and her girlfriend Chris were traveling home in London. They were on a double-decker bus of a London night bus to Camden Town. They were brutally beaten for refusing to kiss.
As reported by BBC, Melania said, "They surrounded us and started saying really aggressive stuff, things about sexual positions, lesbians and claiming we could kiss so they could watch us. To ease the situation I tried to make some jokes, like Chris, wasn't understanding because she didn't speak English. She even acted as if she was sick… but they started throwing coins. The next thing I know Chris is in the middle of the bus and they are punching her."
She further added, "So I immediately went there by impulse and tried to pull her out of there and they started punching me. I was really bleeding. I am not scared about being visibly queer. If anything, you should do it more. I was and still, am angry. It was scary, but this is not a novel situation."
Both women were taken to hospital for treatment to facial injuries, but have now been discharged.
Det Supt Andy Cox described the attack as "disgusting".
Prime Minister Theresa May said: "This was a sickening attack and my thoughts are with the couple affected. Nobody should ever have to hide who they are or who they love and we must work together to eradicate unacceptable violence towards the LGBT community."
London Mayor Sadiq Khan called the incident "a disgusting, misogynistic attack." Hate crimes against gay people will not be tolerated in London, he said.
On Friday evening, the Metropolitan Police announced that four teens had been arrested in connection with the assault.
As people take part in celebrations of LGQBT rights around the world for Pride Month. This attack is a shocking reminder that even in one of the world's most accepting cities, there is still work to be done to protect LGBT people from harm.
Also Read: Australian cricketer James Faulkner misunderstood as 'gay'; now clarifies saying, 'I am not gay'