Luring farmers, fooling India; That's how Modi rules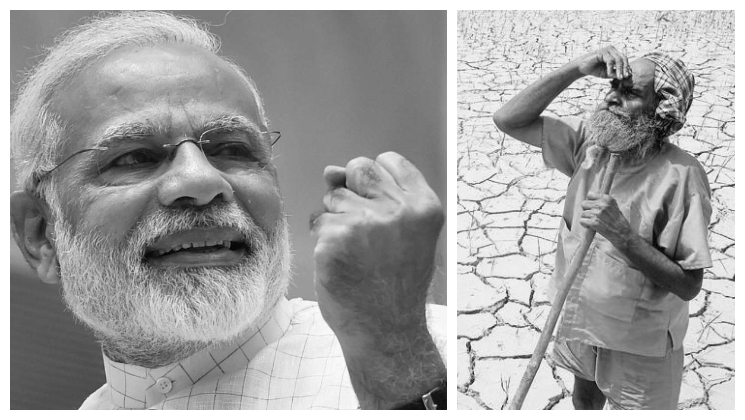 Interacting with the farmers of the country via video call, Prime Minister said nothing new – except for the growth data that the agricultural ministry provided to him. NaMo in his 'conversations' with the farmers talked only about the implementations, that famous agricultural scientist M S Swaminathan recommended a couple of years ago.
Stealing some quotes from his book, with a NaMo masala, the Indian Premier tried to woo the farmers again with the recommendations stated by the eminent agricultural scientist. The speech was on the same old issues like how to decrease the cost of farming, good MSP of crops, less damage to crops, etc. by increasing the MSP to 1.5 times of the original price; as Swaminathan Committee report recommended  to drop the suicides of farmers in the country.
Boasting Schemes or Humiliating Farmers?
Now coming back to what NaMo said. The 'Pradhan Sewak' – which he called himself  a couple of years back – tried to boast the fact that his government had increased the disbursement of funds for the development of agriculture by two folds, i.e. from Rs 1,21,000 crores to Rs 2,12,000 crores, which shows their determination to help ailing farmers.
However, farmers getting a loan waiver of Rs 26 and Rs 3 shook the nation a couple of months back, that too from the state ruled by supposedly NaMo's 'successor' Yogi – Uttar Pradesh. With diamond merchant Nirav Modi and liquor baron Vijay Mallya stealing away Indian's money and flying away to foreign nations, and farmers receiving this 'loan waiver' amount, I just have one question to this saffron ruling government at the Centre and States – Is Modi government trying to humiliate farmers of the country?
It is indeed not correct that to complain that issues are not being solved at the national level, as politicians are playing politics on farmers' death and banks joking on the debt conditions of ailing women farmers. No solution is going to be achieved until honest measures will taken on grounds by the government, unlike the fake promises they usually do.
Video Call or Technological Glitches?
In my previous article, I have spoken about the technological glitches involved in the video call by NaMo and the citizens of India, specially farmers. When I saw the video, being publicised globally via Narendra Modi app today, there were barely few people sitting in front of the screen sharing their views, just like people do during the Mann Ki Baat session.
The video call was done through three lack Common Service Centres (CSCs), where PM Modi interacted with the farmers of 600 districts, addressing the " issues related with farming and agricultural problems". However, it was earlier speculated that there would be technological glitches associated with this pre-scheduled video call, as the literacy level for males in rural India was 72.3 percent, while for women it stood at 56.8 percent. (Census 2014)
Wooing Farmers!
The Indian Premier had said once in Parliament to the Opposition not to doubt on his political knowledge, while quoting MNREGA as failure. Now with 'assurances' and 'declarations' made by PM Modi, a scent of wooing the farmers for the upcoming General Elections 2019 is clearly felt. Due to the negligence of the present government and the previous ones too, the situation has remained fragile for the farmers.
With Modi giving assurances and trying to promote Blue Revolution through pisciculture, poultry farming and honey bee farming, he is trying to shift the main focus to alternative farming which will generate money, rather than food. But, wait for a second. The farmers already facing challenge to grow their crop due to the lack of water, how come they think of Blue Revolution?
Also, one interesting point that needs special attention here. The country ruled by Hindu nationalists (currently) are trying to promote non-vegetarian foods items, while they are by themselves vegetarian (mostly). Who are you fooling Mr. Modi?
Eye on 2022 or 2019?
PM Modi talked about organic farming, modernization, crop insurance, drip irrigation, e-Nam, among others to lure the farmers who interacted with him. With his added comment to double the income of farmers by 2022.
I am a bet skeptical about what he said. While most of his comments were taken from Swaminathan Committee report, which previously was not under consideration, nothing special was on the cards, except for a hint for the farmers to vote him to power in 2019 again. Promises and assurances are revolving, as the election season is nearby, but it would be interesting to see whether farmers will be benefitted or it will a flux again for them.