Madhya Pradesh Assembly elections 2018: Voting for all 230 constituencies begin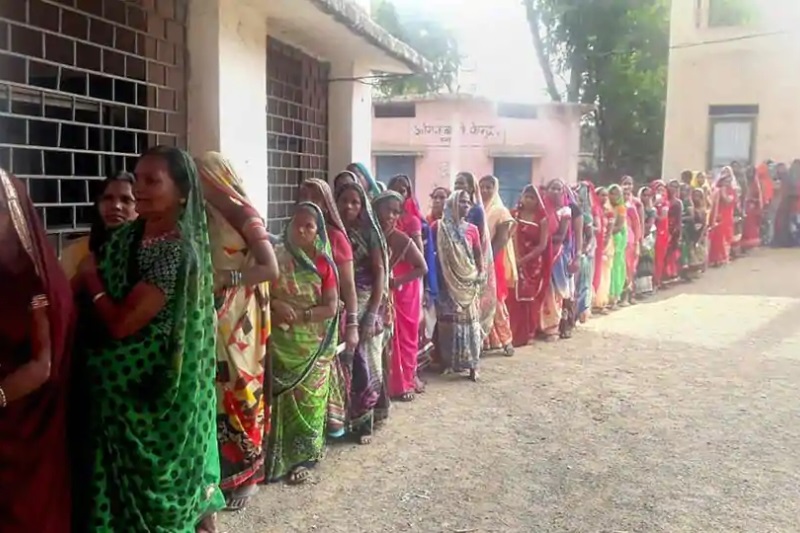 Amid tightened security arrangement, polling for Madhya Pradesh Assembly elections had begun for all 230 constituencies. The voting which began at 8 am will culminate at 5 pm.
A total of 65,367 booths have been deployed across the 52 districts of the state and votes will be cast on Electronic Voting Machines (EVMs) attached to Voter-verified paper audit trail (VVPAT) machines.
Nearly 17,000 polling stations have been categorised as critical, where peaceful polling will be ensured through heightened security measures such as webcasting, CCTV camera surveillance and a higher deployment of central security forces and micro observers. Over one lakh security personnel have been deployed in the state.
Among 2,899 candidates in Madhya Pradesh, the BJP has fielded candidates for all 230 seats while the Congress is contesting in 229 seats leaving one seat, Jatara in Tikamgarh district, for Sharad Yadav-led LJD. A total of 1,794 are from general category while 591 from Scheduled Castes and 514 from Scheduled Tribes.
The highest number of female candidates (seven) are contesting from Chhatarpur. Total 16 candidates are in the fray there. The highest number of candidates (34) are in the fray in Bhind district's Mehgaon constituency. The lowest (4) is at Panna district's Gunnor.
On the other hand, BSP has fielded 227 candidates and the SP is contesting 51 seats. There are 1,102 independent candidates. The keenly watched constituency will be Budhni, the home turf of Shivraj Singh Chouhan. The Congress has pitted former Union minister and former Madhya Pradesh Congress Committee chief Arun Yadav against him.
The prime contest is likely to be between the ruling Bharatiya Janata Party (BJP) and the opposition Congress in 190-odd seats, while 30-40 more seats are likely to witness triangular and quadrangular contests owing to presence of the BSP, SP, the Gondwana Gantantra Party (GGP), AAP and the SAPAKS Party, besides rebel candidates of both the leading parties who are contesting Independently.
Voters today will decide the fate of Chief Minister Shivraj Singh Chouhan, cabinet ministers and some other prominent leaders of the ruling BJP as well as of the Congress and others.
Over five crore registered voters in Madhya Pradesh – 2,63,01,300 men, 2,41,30,390 women and 1,389 comprising the third gender – will decide the fate of the candidates.
The results will be declared on December 11. BJP is facing a stiff challenge at the hands of the Opposition Congress in the Assembly elections. CM Shivraj Singh Chouhan, who has been ruling the state for the last 15 years, is battling with anti-incumbency and farmers' anger to retain power.
In the last Assembly polls, of the 230 seats, the BJP won 165, Congress 58, BSP four and independents three.
Also Read: MP Assembly polls: 3 fuel stations sealed for giving free fuel to SP, BJP