Maharashtra: Dalit boys thrashed, paraded nude for swimming in 'upper caste' man's well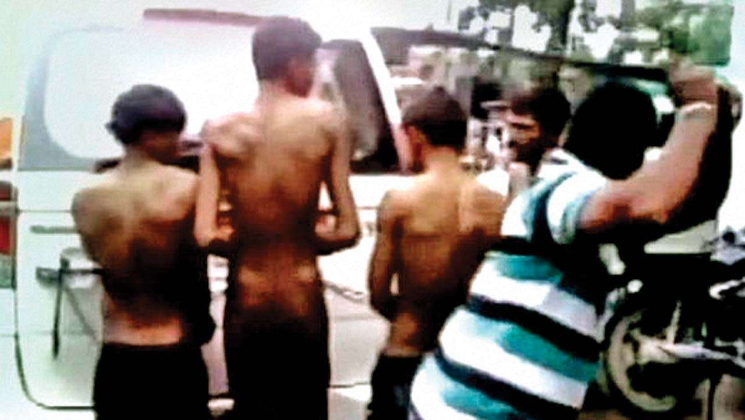 Jalgoan, Maharashtra: Repeated incident for atrocities against Dalits in the country have a new addition. This time the shocking incident is from Jalgoan district in Maharashtra where three minor Dalit boys were thrashed, stripped and paraded naked in Vakadi village for allegedly swimming in the 'upper caste' man's well on June 10.
The incident came to the limelight when the video was uploaded in the social media. In the video circulated, the boys can be seen thrashed with sticks and leather belt. According to the reports, these boys committed a mistake of swimming in a well, which belonged to a person of the upper caste.
Briefing the media and condemning the incident, Maharashtra Social Justice Minister Dilip Kamble informed the journalists that police have arrested two persons in connection with case and investigations are under process. Ramdas Athawale, Union Social Welfare Minister, too have condemned the incident and asked the state machinery to take "stringent action against the perpetrators of the atrocity on the boys".
What Exactly Happened?
In order to beat the scorching heat, these three Dalit boys – all aged between 12-14 – jumped into the well which belonged to a person of the upper caste,  on June 10.  The villagers came to know about it and made a hue and cry of this issue. Soon larger number of people – majority from the upper caste – gathered near the well and pulled out the Dalit boys.
The villagers shouted at them and then started abusing the boys. In no time, the boys were forcefully stripped and then paraded in the village – nude. In the video released, the boys can be seen wearing only some tree leaves and sandals being paraded in the village. Also, they can be seen beaten with sticks and leather belt on legs and back.
Fear Factor: 
Facing intense pressure and threat from the influential people from the village, the boys and their families are afraid. Though they have lodged the complaint with the police, but are suspecting a backtrack from the villagers again.
Political Reaction: 
Soon after reports of this incident was circulated, several Dalit and political leaders expressed their ire and have demanded stringent action against the perpetrators of the alleged crime. Leaders from Congress, Gujarat Dalit leader Jignesh Mewani, BJP's Eknath Khadse, former Chief Minister Ashok Chavan and former state Minister Laxman Dhoble, all have demanded to book the culprits under the SC/ST Act.
Reacting on the concerns of the Dalit leaders and social activists, state minister Chandrakant Patil has promised to take action in this case, under the different sections of the SC/ST Act and Indian Penal Code. He also ensured that the government will take appropriate actions so that such incidents are not repeated again in future.
Photo Credit: DNA