Maharashtra Lok Sabha bypolls: BJP leads with its MP Gavit in Palghar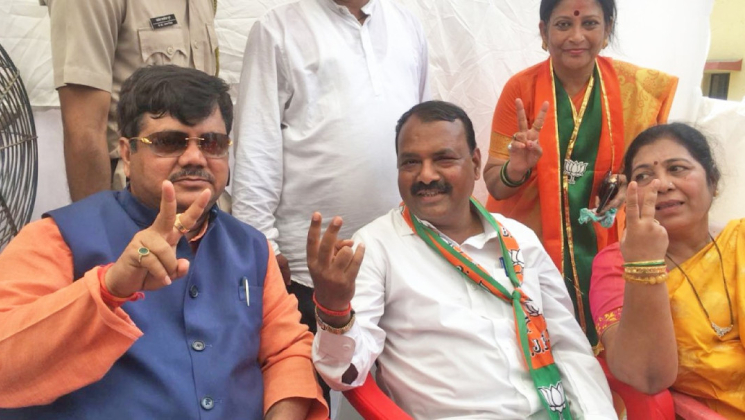 Bharatiya Janta Party kept its position on the Palghar Lok Sabha seat where its candidate Rajendra Gavit won the bypolls, the results of which were announced Thursday afternoon, 31st May 2018.
In thrust to its amalgamate Shiv sena's Shriniwas Vanga, BJP's Gavit defeated his nearest rival, the son of sitting MP Chintaman Vanga, whose death in January had necessitated the bypoll, by over 29,000 votes.
While Shriniwas Vanga had joined the Sena on the eve of the elections, Gavit had quit the Congress to join the BJP and was rewarded with a ticket for the high-stake seat.
"I thank Prime Minister Narendra Modi, Chief Minister Devendra Fadnavis and all the party leaders and workers for this victory. I dedicate this achievement to the late BJP leader Pandurang Phundkar (who died this morning)," Gavit said.
As per available figures, Gavit secured a little over 272,000 votes compared to Vanga's 243,000 votes.
Locally strong party Bahujan Vikas Aghadi's candidate Baliram Jadhav got a little more than 222,000 votes, while the Congress candidate Damodar Shingada was the poor fourth.
The Sena has raised objections to the vote counting process, alleging discrepancies in figures, especially in the rounds 20-24, and plans to raise the matter with the Election Commission.
Meanwhile, the BJP has announced it will not have any victory celebrations in Palghar in view of the death of its minister and senior leader Phundkar this morning, said Minister of State for Medical Education Ravindra Chavan, who is considered the architect of the Palghar victory.
Picture credits: Mumbai Live