MNS workers vandalise Navi Mumbai PWD office over pothole deaths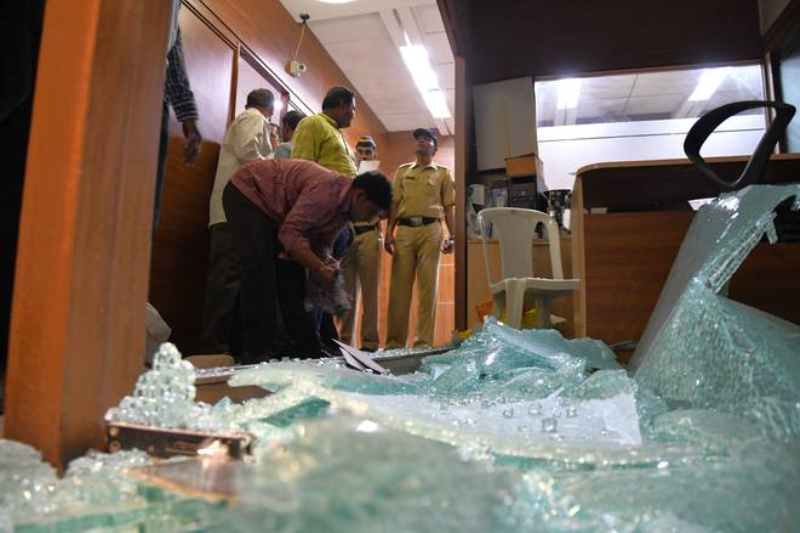 Maharashtra Navnirman Sena (MNS) workers on Monday, 16 July vandalised the Public Works Department of India (PWD) office in Navi Mumbai as the number of pothole-related deaths increased in the city. In the last two weeks, pothole-ridden roads have claimed a total of five lives: four in Kalyan, while one in Navi Mumbai.
In all these cases, victims lost balance and fell when their two-wheelers hit a pothole. According to reports, in the Navi Mumbai mishap, the victim was identified as Sunny Vishwakarma, 27, a resident of Ulwe.
The incident took place in Sanpada on the Sion-Panvel Highway and the police have registered a case of accidental death. The accident took place while Vishwakarma was on his way home and failed to spot a pothole that was covered in water.
Workers shouted slogans against Eknath Shinde, Pravin Pote and Chandrakant Patil. Police have arrested five MNS office bearers in this case. On Monday, at 11AM MNS organized a sit-in agitation. MNS is calling this a 'Surgical Strike' for the movement against the lethargy of the Public Works Departmnent to fulfill their duties.
#WATCH: Maharashtra Navnirman Sena (MNS) workers vandalise the office of Public Works Department in Navi Mumbai over incidents of pothole deaths in the state. #Maharashtra pic.twitter.com/IT4qQpfMAW

— ANI (@ANI) July 16, 2018
On Saturday, Maharashtra PWD minister Chandrakant Patil sparked a row by saying that pothole-ridden roads cannot be blamed for accidents alone. Speaking to reporters in Sangli yesterday, Patil said, "When you talk about a death in such an accident, you forget that five lakh other people have travelled on the same road. You can not put the entire blame on the (condition of) roads alone." However, on Monday, the PWD minister clarified saying, "I did not mean to hurt anyone's sentiments, I had made a general statement".
Mumbai Congress chief Sanjay Nirupam claimed today that there were 20,000 potholes on Mumbai roads, and not 300 as stated by the civic body BMC before the Bombay High Court.
MSRDC Minister Eknath Shinde also inspected the distraction of the road three days ago. At that time, there was a reassurance that war will be repaired. However, the work that is going on is of poor quality and they are driving the complaint that they are carrying it even during the monsoon.