Maharashtra: Prakash Ambedkar, Owaisi to join hands for 2019 elections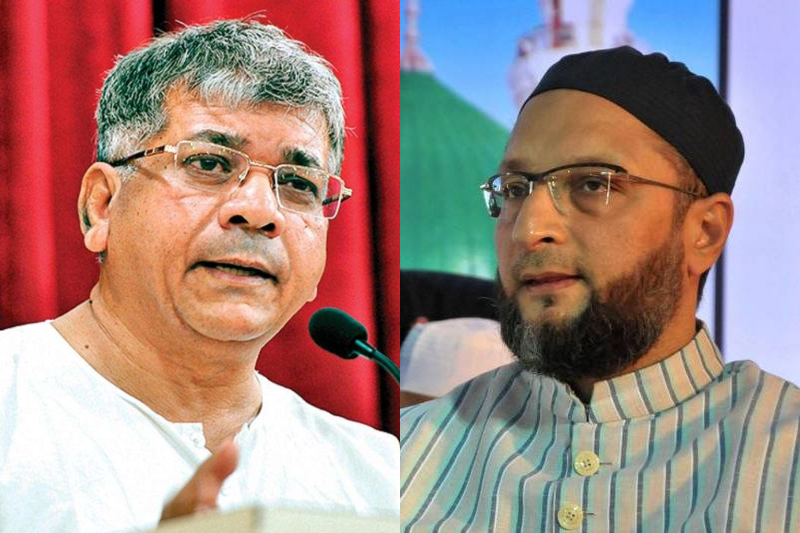 With an aim to counter BJPs winning streak in the polls, all the regional and smaller parties are coming together. Likewise, ahead of the 2019 polls, Prakash Ambedkar and Asaduddin Owaisi are set to form an alliance to counter Modi wave. However, the formal announcement is likely to be announced at a rally in Aurangabad on Tuesday.
Notably, the Prakash Ambedkar-led Bharip Bahujan Mahasangh (BBM) and Asaduddin Owaisi-led All India Majlis-e-Ittehadul Muslimeen (AIMIM) has decided to make an alliance for the upcoming elections. Both Prakash Ambedkar and Owaisi are likely to address the rally during which they may announce a seat sharing arrangement too. Late on Monday, the two leaders met for the first time.
AIMIM lawmaker Imitiaz Jaleel said an announcement that "could cause tremors" on Maharashtra's political terrain will be made at the Aurangabad rally. "Both AIMIM and BBM are looking to become a force to reckon with in Maharashtra politics. We have been trying to impress upon the BBM the need to join hands and become a strong political force. The BBM had been waiting for the Congress' response to its demands for seat-sharing. But the Congress has failed to respond. Therefore, the BBM has made up its mind to join hands with us," he added.
Responding to the statement of Imtiaz Jaleel, Maharashtra Congress chief Ashok Chavan said that discussion regarding an alliance with Prakash Ambedkar-led Bharip Bahujan Mahasangh were underway.
On the other side, speaking about the Aurangabad rally, NCP spokesperson Nawab Malik said that the party's priority is to throw out the BJP regime and not indulge in a political experiment. "But every political party is free to take its call regarding alliances and political experiments. Therefore, we would not like to comment on the AIMIM and BBM move. But both the BBM and the AIMIM could not measure up to us in the recent elections," he added.
"In Gondia, the BBM failed to get votes while the AIMIM, which contested across the country, could not make a dent," he concluded.
Also Read: General elections 2019: BJP to field 'Son of the Soil' against Asaduddin Owaisi