Mumbai: Maharashtra to become trillion dollar economy by 2025, Devendra Fadnavis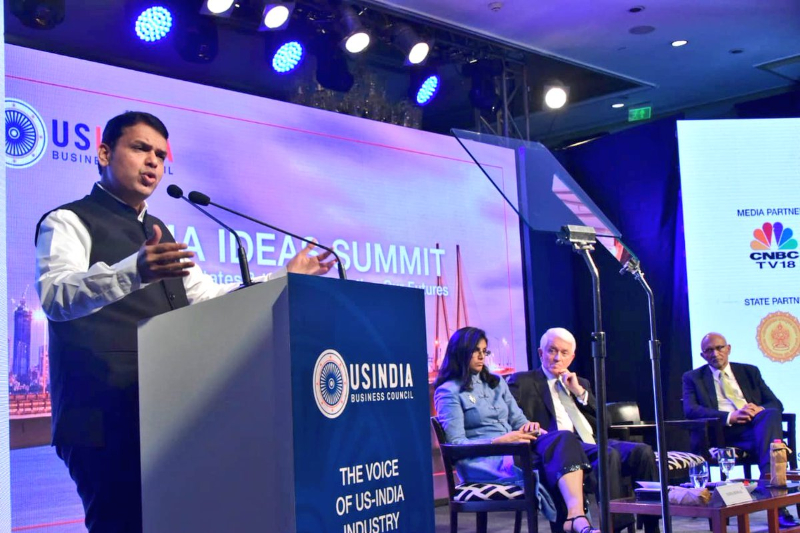 Maharashtra Chief Minister Devendra Fadnavis while addressing the 43rd annual general meeting titled 'United States and India: Connecting Our Futures" said Maharashtra is set to become a trillion dollar economy by 2025. He said, Maharashtra is an ideal destination for Indo US business partnership.
Fadnavis said, "Prime Minister Narendra Modi has set a target of a $5 trillion economy by 2025. While Maharashtra has a goal to become a trillion dollar economy itself. It  will be a significant player in the economic growth and development of the nation."
Fadnavis said. "If the country is heading at 8 per cent growth rate, Maharashtra, the growth engine of the country, has made the highest contribution."  The state, Maharashtra accounts for 15 per cent of the country's GDP, 25 per cent of the country's industrial growth, 30 per cent of exports and 51 per cent of the country's infrastructure. Of the total FDI in India, 49 per cent is parked in Maharashtra.
Devendra Fadnavis feels proud of being a Maharashtra Chief Minister as most of the foreign companies are based in Mumbai. CM said, "In the past, we always looked up to US companies for investment in India. Today, we have 100 Indian companies with investments worth $15 billion, providing employment to 91,000 people abroad. I am happy to inform you that majority of these companies are based in Maharashtra, especially Mumbai."
"The geopolitical scenario mandates that the world's two largest democracies, India and the US, have to play a major role in global affairs. The Indo-US partnership is not merely about profits and building businesses. We have to work to take forward our partnership to serve humanity and free society, which would not only serve mutual interests but the world at large," he quoted as saying to Indian Express. 
Young Indian would be an asset for the US, Says Thomas Donohue
Earlier, speaking at the summit, Thomas Donohue, president and CEO of the US Chamber of Commerce said,  "The skilled young Indian workforce would be an asset for the US. Reiterating the importance of Indo-US bilateral ties, he said, "The chamber will be making a case to the US government for welcoming high-skilled workers with open arms from India."
Donohue added, "Even if we were to retain all the retired workforce there still would be a shortfall of five lakh in 2025. The demography is destiny. And India with a young workforce has the advantage," 
Also read:  2+2 Dialogue: US, India sign COMCASA agreement; discuss bilateral ties