Meet a real life "Spiderman" from France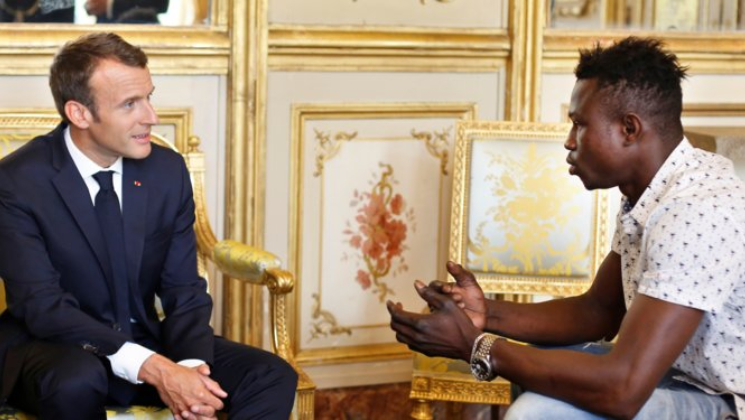 A four year boy left Reunion, where his mother and grandmother live, about three weeks ago and moved to Paris to join his father, who works in the city. His mother and the couple's second child were due to join them in June.
Father of a four year old in Paris left him in their flat and gone shopping. After doing the shopping, the boy's father had delayed going home to play Pokemon Go, prosecutors said.
The boy had been wearing a Spiderman outfit, was bleeding from his toe and had a torn nail. This boy later was caught on camera dangling from the Paris balcony.
The 22-year-old left the town of Yaguine in south-western Mali as a teenager in 2013. The teenager named 'Mamoudou Gassama'. In Paris he worked cash-in-hand on building sites and lived in a hostel in the western suburb of Montreuil – known as "little Bamako" because of its large Malian population. He had not applied for asylum and was living illegally in France.
Just passing down the street Gassama saw this little one dangling from balcony and immediately climbed up the balcony for child's rescue. Thankfully he knew how to climb, because there were a lot of people below but he didn't just fold his arms. He raced up to the fourth floor. That was truly incredible. He was very brave.
Gassama met French president Emmanuel Macron at the Elysee palace, where the president gave the rescuer a medal and certificate for performing an act of courage and determination. On Tuesday Mr Gassama received French residency, a first step towards citizenship. He also signed a contract for an internship with the Paris fire service.
Check out the video here:
President Macron wrote on his Instagram "France is built on desire and Mr. Gassama's commitment clearly showed that he has that desire".
The four-year-old's father, who had left him in their flat and gone shopping, faces charges of failing to look after his child, reports say.
Picture credits: Business Insider