Meghan Markle rushes back to son Archie says, "it's 'feeding time."
The Duchess of Sussex looked sharp and chic at the launch of a clothing line for the British charity.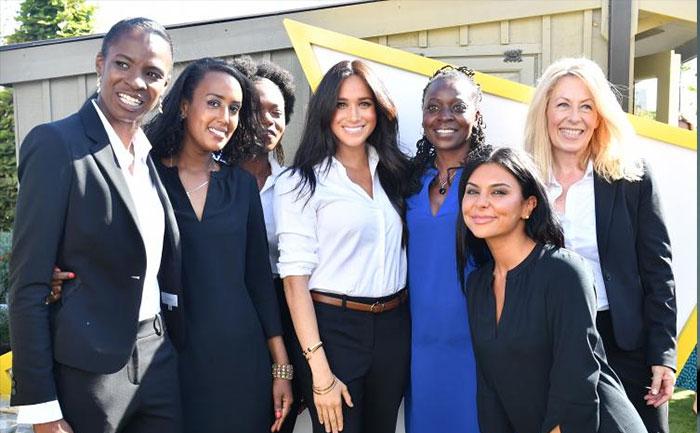 The Duchess of Sussex Meghan Markle launched her new collection of workwear in aid of a women's charity today. After four months of giving birth to her son Archie, Meghan was seen in public today.
Meghan's fashion collection includes professional attire such as a blazer, tote bag, and trousers and is labeled the Smart Set collection, it supports Smart Works. It was created with the help of Jigsaw, John Lewis & Partners, Marks & Spencer and her designer friend Misha Nonoo, who "pioneered the capsule wardrobe".
Meghan Markle at the event said that she could not stay long as she had to "get back to the baby, it's feed time." She was seen in a white crisp shirt and a pair of trousers as she looked chic and sharp.
For every one of the five items sold, one will be donated to Smart Works which provides training and interview clothes to unemployed women in need of helping them to work.
In a statement, Meghan Markle stated: "Since moving to the UK, it has been deeply important to me to meet with communities and organizations on the ground doing meaningful work and to try to do whatever I can to help them amplify their impact."
Further, she added, "As women, it is 100 percent our responsibility, I think, to support and uplift each other. To champion each other so we aim to succeed, to not set each other up for failure but instead to really be there rallying around each other and say 'I want to help you."
Sussex Royal, the official Instagram account of the Duke and Duchess of Sussex, aka Prince Harry and Meghan Markle shared a video.
ALSO READ: Here's Why Meghan Markle And Prince Harry Unfollow Everyone On Instagram?