Navy's MiG 29K jet crashes in Goa, pilots eject safely
Indian Navy MIG Trainer Aircraft Crashes Near Goa Airport, Pilots Eject Safely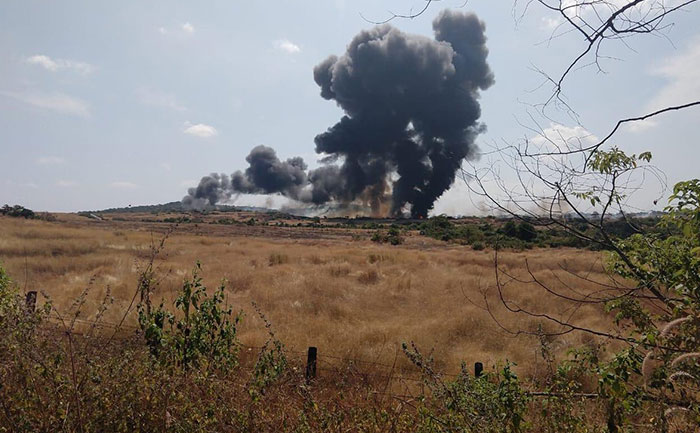 An Indian Navy's MiG 29K fighter jet crashed soon after taking off in Goa. The plane was on a trainee mission and the pilot's Captain M Sheokhand and Lieutenant Commander Deepak Yadav have ejected safely. The aircraft is attached to INS Hansa located near Dabolim in Goa. The Indian Navy and the local administration officials are locating the wreckage near the Verna Plateau in South Goa.
During a training mission, after take off from INS HANSA at Dabolim a Mig 29k trainer aircraft suffered an engine fire. The pilots Capt M Sheokhand and Lt Cdr Deepak Yadav ejected safely. @SpokespersonMoD

— SpokespersonNavy (@indiannavy) November 16, 2019
As per ANI report, the MiG-29K trainer jet's (right) engine was hit by a bird while in mid-flight. The plane crashed in an open and safe area and no casualties, civilian or otherwise.
Navy sources too have confirmed that the aircraft being flown by trainee pilots landed in an open area. The pilots were initially cared for by local residents after they landed and were reported to be safe and conscious.
The MiG 29K is the aircraft carrier version of the MiG 29 stationed at INS Hansa Dabolim and designated for Aircraft Carrier INS Vikramaditya.
This is not the first incident, In June a mishap involving MiG-29K had caused the Goa airport operations to be suspended for 90 minutes. The reason being the inadvertent jettison of the fuel tank while take-off. It had caused a fire on the runway. Not many know that the Goa airport is used for both civilian and military aircraft.
Also Read: Navy Chief: Indian Navy prepared to thwart JeM's underwater plans