Bill Gates tops Jeff Bezos to reclaim his spot of world's richest person
Bill Gates tops Jeff Bezos as world's richest person with Amazon slide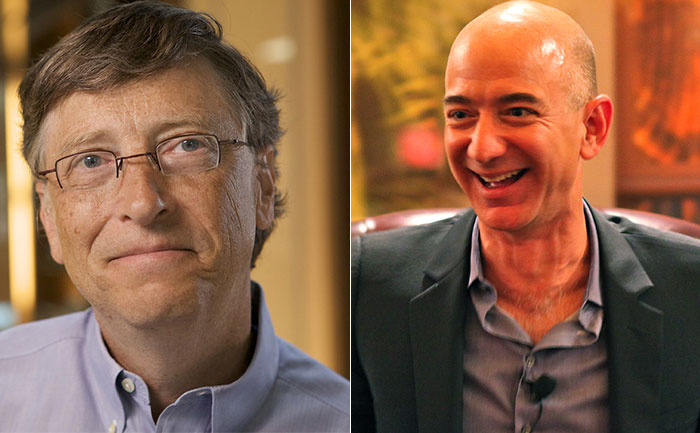 Bill Gates is back on top. Yes, the Microsoft Corp. co-founder overtook Amazon.com Inc.'s Jeff Bezos as the world's richest person on Friday. He reclaimed the top ranking for the first time in more than two years. Last month Bill had topped Jeff when Amazon had reported that its profit fell nearly 28% by September. But Gates' time at the top was short-lived.
But he has once again regained the lead as Microsoft shares are up nearly 48% this year. In October, Microsoft beat out Amazon for a $10 billion cloud-computing contract with the Pentagon. Shares of Microsoft have since climbed 4% whereas Amazon's stock is down about 2% since the announcement.
Bezos lost out on the race due to his divorce. He had to pay out a significant portion of his Amazon stake to his wife of 25 years MacKenzie Bezos.
Gates, on the other hand, may have never relinquished the top spot. It was all due to his philanthropy that he slid down from the first position. He has donated more than $35 billion to the Bill & Melinda Gates Foundation since 1994.
Gates sits on the first place with a net worth of $110 billion. Bezos is at second with a net worth of $108.7 billion. Europe's richest person, Bernard Arnault, is third with $102.7 billion as per the Bloomberg Billionaires Index.
Bill Gates had recently also shared his thoughts on the wealth tax that's been proposed by some Democratic presidential candidates, including Elizabeth Warren. He said he's already paid more than $10 billion in taxes. It would be fine up to $20 billion. However, to pay $100 billion would prompt him to start "to do a little math about what I have leftover."
Also Read: 15 Unknown Facts About Bill Gates Daughter Jennifer Gates