Migrant Workers Run Over by Train in Aurangabad, PM Modi speaks to Rail Minister
Migrant workers sleeping on rail tracks mowed down by goods train in Maharashtra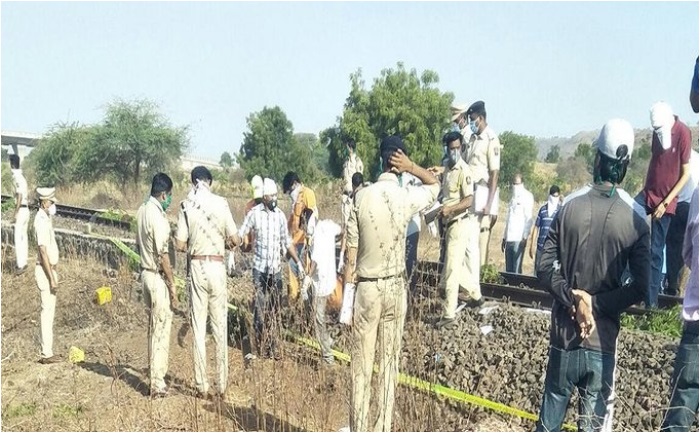 At least 14 migrant workers sleeping on rail tracks were mowed down by an empty oil train in Maharashtra's Aurangabad district in the early hours of Friday. Two of the five survivors were injured in the incident, police said.
According to PTI, the workers were walking to Bhusawal from Jalna. They had been walking along the rail tracks and slept off due to exhaustion. They were mowed down by a goods train that was running between Jalna and Aurangabad at 5.15 am. The motormen honked and tried to bring the train to a halt but failed to do. The labourers, all worked at an iron factory in Jalna and were headed back to Madhya Pradesh amid the coronavirus lockdown.
Expressing grief over the incident, Prime Minister Narendra Modi tweeted,
Extremely anguished by the loss of lives due to the rail accident in Aurangabad, Maharashtra. Have spoken to Railway Minister Shri Piyush Goyal and he is closely monitoring the situation. All possible assistance required is being provided.

— Narendra Modi (@narendramodi) May 8, 2020
The ministry of railways said it has ordered an inquiry into the incident and tweeted,
During early hours today after seeing some labourers on track, loco pilot of goods train tried to stop the train but eventually hit them between Badnapur and Karmad stations in Parbhani-Manmad section
Injureds have been taken to Aurangabad Civil Hospital.
Inquiry has been ordered

— Ministry of Railways (@RailMinIndia) May 8, 2020
Ever since the COVID-19 Lockdown has been announced several migrant workers have hit the streets, in an attempt to return home.
Also Read: COVID-19 Lockdown: Migrant workers gather at Bandra railway station in Mumbai