Vande Bharat Mission: First two Air India flights from UAE land in Kerala
Vande Bharat Mission: First two flights from UAE land in Kerala; another leaves for Singapore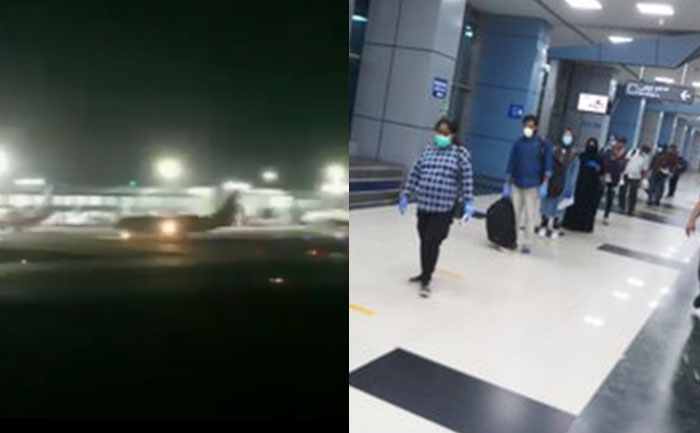 The central government announced plans to begin massive repatriation of its citizens stranded abroad. The plan is dubbed as "Vande Bharat Mission." In the first week of the massive operation, 64 flights will bring 15,000 Indian citizens home from 12 countries. Today two special flights with 363 Indians from Abu Dhabi and Dubai landed in Kerala.
The first flight carrying 181 people from Abu Dhabi landed in Kochi around 10pm on Thursday. The second flight with 182 passengers from Dubai landed in Kozhikkode roughly 20 minutes later. They came via two Air India Express flights that formed the first leg of a massive repatriation programme.
Flight with 181 passenger including 49 pregnant ladies and 4 children land in #Kochi from Abu Dhabi landed at 10:08. #COVID19 #Kerala pic.twitter.com/B3wQV9QEVc

— Mugilan Chandrakumar (@Mugilan__C) May 7, 2020
All passengers who are arriving will undergo multi-level screenings including thermal checks. They will then undergo the more reliable RT-PCR test and if negative, they will be allowed to self-quarantine at home for the remaining seven days. If they are positive, they will be moved to hospitals.
Passengers flying in from places without any test will be kept in institutional quarantine for all 14 days. All passengers have undergone coronavirus anti-body tests at the airport before departure. The state government has set up quarantine and isolation facilities near international airports. They have also arranged for vacant flats, houses, and houseboats to accommodate the passengers.
As the passengers – many of them aged, disabled, or children – disembarked from the flight, many were seen wiping tears.
The first phase of the mission runs from May 7 to May 13. It involves the United Arab Emirates, Saudi Arabia, Qatar, Bahrain, Kuwait, Oman, Bangladesh, Philippines, Singapore, Malaysia, United Kingdom, and the United States. All international passengers will be charged for the journey. Naval warships will be used to bring back Indians stuck in West Asia and the Maldives.
Also Read: COVID-19 Pandemic: Mumbai on verge of public health crisis