Migrants flee Gujarat; Rahul Gandhi, Lalu Yadav blame BJP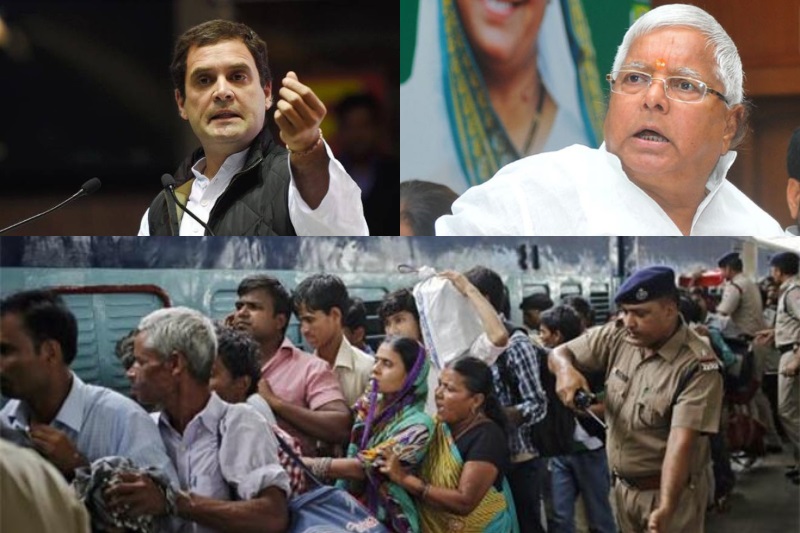 Joining the movement to raise protest against the alleged forceful fleeing of North Indians worker from Gujarat, Congress president Rahul Gandhi on Monday accused the Bharatiya Janata Party for violence. He was of the opinion that the the reason for violence is not the rape incident but unemployment, caused by shut sown of factories.
Expressing his opinion on the crisis where migrant labours are fleeing the state of Gujarat, he took took to twitter and wrote, "There is no big fear than poverty. The reason for violence in Gujarat are closed factories and unemployment. Process and financial condition have totally shattered. Targetting migrants for this chaos is totally wrong. I will stand against this."
ग़रीबी से बड़ी कोई दहशत नहीं है| गुजरात में हो रहे हिंसा की जड़ वहाँ के बंद पड़े कारख़ाने और बेरोज़गारी है|

व्यवस्था और अर्थव्यवस्था दोनो चरमरा रही है|

प्रवासी श्रमिकों को इसका निशाना बनाना पूर्णत ग़लत है| मैं पूरी तरह से इसके ख़िलाफ़ खड़ा रहूँगा| pic.twitter.com/yLabmmZDwk

— Rahul Gandhi (@RahulGandhi) October 8, 2018
He was not the only one. Jailed Rashtriya Janata Dal leader too took a jibe at the situation. He took to twitter and wrote in his sarcastic tone, "Brother and sister's friends, mother Ganga called in Kyoto. That is why after 70 years Break in India will happen by letting Gujaratis loot the country and beating the non-Gujaratis. Anyways the Shenshah (dictator) says there are 100 crore illegal immigrants in country and that is why from now onwards there will be no start-up, but Close-up India."
भाईयों और बहनों के मित्रों,

माँ गंगा ने क्योटो में बुलाया था इसलिए गुजरातियो से देश लूटवा कर और ग़ैर-गुजरातियो को पिटवा कर ही 70साल बाद देश मे टीम गुजरात संग ब्रेक इन इंडिया होगा।

वैसे भी शहंशाह कहता है देश मे 100 करोड़ घुसपैठिए है इसलिए अब स्टार्ट अप नहीं क्लोज़ अप इंडिया होगा

— Lalu Prasad Yadav (@laluprasadrjd) October 8, 2018
Alleging that the Gujarat government has made a special law which allows only Gujaratis to work in the state, Mumbai Congress chief Sanjay Nirupam stated that the around 50,000 North Indians were forced to flee the state till now. He claimed that chief minister is busy in blaming the Congress and not taking appropriate steps to stop this chaos.
हमने सुना था तड़ीपार महोदय बांग्लादेशियों को भारत से भगाने का संकल्प ले रहे हैं,ये तो उत्तर भारतीयों को भगाने लगे। https://t.co/baF4eVnatB

— Sanjay Nirupam (@sanjaynirupam) October 8, 2018
The voices from the opposition appear after reports that thousands of North Indians are forced to flee Gujarat after the violence meted on them. Though Chief Minister of Uttar Pradesh Yogi Adityanath claim that opposition is playing a role in allegedly inciting the violence, Samajwadi Party chief Akhilesh Yadav countered him by that Rupani government had been inefficient in handing this chaos efficiently. With 2019 Lok Sabha elections knocking the door, this particular incident might make a deep dent in BJP success vehicle.
ALSO READ: Gujarat rape: Politicians start blame game as migrants flee state