Miley Cyrus suffers wardrobe malfunction as she boards a flight
Viral video of Miley Cyrus has the singer revealing more than needed all thanks to a wardrobe malfuntion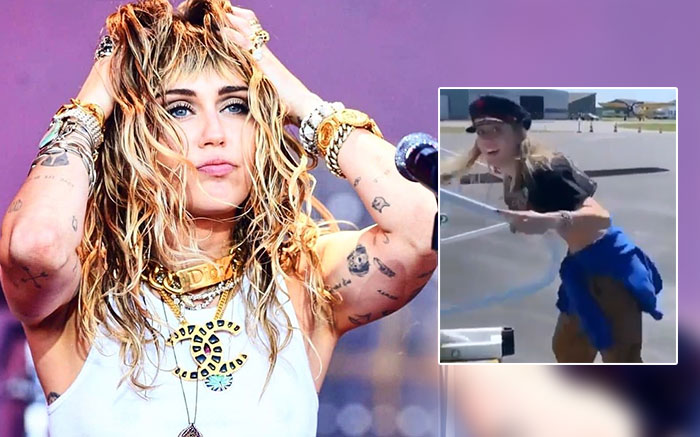 International singer Miley Cyrus has been the talk of the town for her ongoing 'SHE IS COMING' tour. She also hit headlines for her song in the upcoming Charlie's Angles movie. Miley has collaborated with Ariana Grande and Lana Del Ray. But recently the Diva is in news for something else. A recent video of the singer is viral all thanks to a wardrobe malfunction that revealed a little too much.
Check out the viral video here:
In the video the 26 year old is seen goofing around she boarded her flight. Miley was dressed in printed pants and a black crop top for her journey. The songstress sported blue jack tied around her waist accessorized with a chic cap for and a pair of stylish boots. As she made her way towards the plane, Miley was seen showing off some moves. But she accidentally had a slip and revealed too much.
However, Miley being Miley soon pulled down her crop top and ran into the flight.
Miley was also recently kissed and groped by a fan in Barcelona, Spain. A fan inappropriately got up close and personal with Miley Cyrus as she was making her way through a sea of fans with husband Liam Hemsworth. Her security personnel soon got the man removed and Miley was whisked off by her husband to safety.
Llego a estar ahí, y al "fan" que se ha tirado a por miley no se le olvida el guantazo que se lleva pic.twitter.com/30PUR4zXR0

— Alvaro (@AlvaroSaucedo13) June 2, 2019
Check out Miley's song for the latest instalment of Charlie's Angels here:
Also Read: Justin Bieber comment on Miley Cyrus' topless picture is winning over the internet