Miracle the Dog rescued after month in Hurricane Dorian rubble …
Dog rescued after nearly a month in Hurricane Dorian rubble. Read on to know details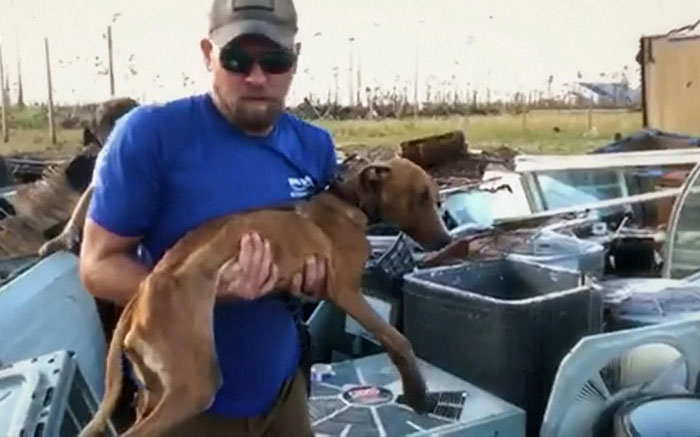 Hurricane Dorian hit the Bahamas with a vengeance but amidst this catastrophe, there has been a miracle too. Rescuers from Big Dog Ranch Rescue in Loxahatchee Groves in Palm Beach County have resued a Dog in emancipated condition. The dog has survived for a month under the rubble before he was rescued. The people who rescued the dog have named him Miracle because he survived underneath rubble for about a month just on rainwater.
Big Dog Ranch Rescue says a drone helped them find Miracle, he was pinned under an aircondition and building rubble in Marsh Harbour. Once they detected a small heat patch, rescue workers trudged through the debris to reach the dog.
Rescuers sifted through broken glass, nails, air conditioners and building materials to locate the one-year-old dog before they found him. After comforting him with food, rescuers were able to pull him out of the debris. The team rushed the pup to their ranch for lifesaving medical treatment.
The Florida-based rescue says he was emaciated and unable to walk, but despite all of that, he greeted them with a wagging tail. Miracle is expected to make a full recovery and will stay until his family claims him.
If not then he will be available for adoption after several weeks of treatment and therapy.
So far, Big Dog Ranch Rescue has saved 139 dogs impacted by Hurricane Dorian. The rescue says it will continue to transport dogs from the facility and provide vital life-saving supplies to the Bahamas.
Also Read: Donald Trump attacks 'incompetent' mayor Sadiq Khan but spells his name wrong