Mob attacks Nankana Sahib in Pakistan, threatens to raze Gurdwara
India condemns vandalism at Gurdwara Nankana Sahib, Pakistan denies reports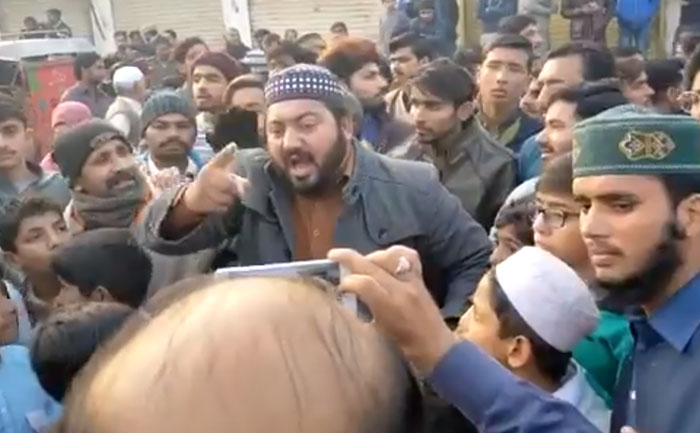 An angry mob of local residents resorted to stone pelting at Nankana Sahib Gurdwara in Pakistan on Friday evening. The gurdwara is at the site where the founder of Sikhism, Guru Nanak Dev, was born. It is considered to be one of the holiest Sikh shrines. Many devotees were trapped inside the Gurdwara as it was surrounded by angry Muslim residents.
As per reports, the mob was led by the family of Mohammad Ehsaan, the boy who allegedly abducted and converted Sikh girl Jagjit Kaur, who is the daughter of the gurdwara's pathi. The violent mob finally dispersed after police released Ehsaan, the man who had allegedly abducted the Sikh girl.
#WATCH An angry mob shouts anti-Sikh slogans outside Nankana Sahib Gurdwara in Pakistan's Punjab. Earlier stones were pelted at the Gurdwara led by the family of a boy who had allegedly abducted a Sikh girl Jagjit Kaur, daughter of the Gurdwara's pathi. (Earlier visuals) pic.twitter.com/xyNkhsrhR9

— ANI (@ANI) January 3, 2020
In a video shared by News Nation, one of the protesters was seen saying that locals were against the presence of the gurdwara there. Also that they will not let any Sikh live there and will soon change the name of the place from Nankana Sahib to Ghulamaan-e-Mustafa.
"We will not let any Sikh live in Nankana Sahib, and will change its name to Ghulam Ali Mustafa," says a protester #Pakistan

Read full story: https://t.co/K6n56Za60W pic.twitter.com/pClfgPCLxS

— News Nation (@NewsNationTV) January 3, 2020
Police arrived to control mob almost 2 hours later after the situation escalated.
The situation at Gurdwara Janamasthan #NankanaSahib is still tense – police is trying to control the situation – number of people have surrounded Gurdwara building. pic.twitter.com/vmpMGSH8vf

— Shiraz Hassan (@ShirazHassan) January 3, 2020
Delhi MLA Manjinder Singh Sirsa tweeting the alleged video urged Pakistan PM Imran Khan to take immediate action against such communal incidents.
LIVE Footage from Nankana Sahib where an angry Muslim mob is outside Gurdwara Sahib and raising anti-Sikh slogans

I urge @ImranKhanPTI Ji to take immediate action on such communal incidents that are increasing the insecurity in the minds of Sikhs of Pak@thetribunechd @PTI_News pic.twitter.com/IlxxBjhpO2

— Manjinder S Sirsa (@mssirsa) January 3, 2020
Punjab Chief Minister Captain Amarinder Singh also tweeted and asked Pakistan Prime Minister Imran Khan to "immediately intervene to ensure that the devotees stranded in Gurdwara Nankana Sahib are rescued and the historic Gurdwara is saved from the angry mob surrounding it."
But Pakistan has dismissed these claims about Gurdwara Nankana Sahib near Lahore had been vandalized by a mob. The Pakistan Foreign Office, in a midnight statement, said provincial authorities in Punjab province had informed it that a scuffle had broken out in Nankana Sahib between two Muslim groups at a tea stall. The district administration immediately intervened and arrested the accused, it added.
We shall soon update you with more information on this matter.
Also Read: India lodges strong protest with Pak govt over harassment of high commission officials