Top 10 Most Followed Celebrities Instagram Accounts – February 2020
Top 10 Most Followed Celebrities Instagram Accounts In 2020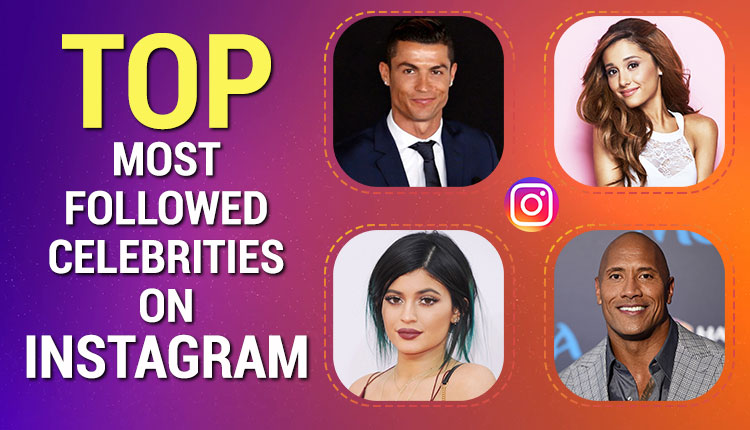 Most Followed Celebrities On Instagram: If you are an avid social media user, you must be following Cristiano Ronaldo, who tops the list of most-followed Instagram accounts. It is hard to find people who do not like to be on social media while millions of people follow celebrities to get an instant and direct update from celebrities. Instagram, Twitter, Facebook and other social media platforms have finally managed to narrow down the distance between stars and their fans. If you look at the list of most followed celebrities around the world, it is ruled by musicians, reality stars, and soccer players rule. 10 Most Liked Pictures On Instagram Of All Time
The Live Mirror has compiled the list of 15 most-followed people on Instagram for 2020, and well-known faces like Cristiano Ronaldo and Ariana Grande top the list.
Here Are 10 Celebrities Who Has The Most Followers On Instagram
1. Cristiano Ronaldo — 203.9 million Instagram followers
Cristiano Ronaldo is undoubtedly the world's best football players of the recent time. He is regarded as one of the greatest players of all time. Ronaldo currently plays for Juventus F. C and he is also the captain of the Portugal National Team. Apart from the field, he is also one of the most followed football players and celebrities on Instagram.
Ronaldo is the first player who has won four European Golden Shoes. Cristiano Ronaldo is being followed by 203.9 million people on Instagram but he only follows 436 people including Beyonce.
2. Ariana Grande — 175.3 million Instagram followers
Ariana Grande is one of the biggest and leading contemporary recording artists, who have received multiple accolades, including one Grammy Award, one Brit Award and three American Music Awards. Grande started her career in 2008 in the Broadway musical and earned recognition for her role as Cat Valentine in the Nickelodeon television series.
Ariana Grande follows 1011 people and being followed by 175.3 million on Instagram. She has been named as the most followed woman on Instagram in February this year. Time included her in 100 most influential people in the world in 2016 and 2019. 11 Most Followed People On Instagram In India 2019 
3. Dwayne Johnson "The Rock" —  172 million Instagram  followers
The retired WWF wrestler and American actor and producer Dwayne Johnson is known for sharing his work out videos and pictures on Instagram. He keeps posting motivational quotes and caption, which gives his fans much-needed positivity every day. Johnson made his acting debut with The Scorpion King (2002) and went on to star in numerous other films, including The Rundown (2003), The Other Guys (2010), Moana (2016), and Jumanji: Welcome to the Jungle (2017).
Now, he is one of the highest-paid actors in the world. He also managed to induct his name in TIME's 100 Most Influential People in the World list in both 2016 and 2019. The Rock follows 351 personalities on Instagram and is followed by 172 million.
4. Selena Gomez — 168.6 million Instagram followers
The second woman in the list of most followed celebrities on Instagram is also a singer-writer and musician, Selena Gomez. After working on the children's television series titled Barney & Friends, she rose to fame for her role portrayal of Alex Russo on the Disney Channel television series Wizards of Waverly Place, which aired for four seasons from 2007 until 2012.
It is to be noted that she used to be the most followed woman on Instagram but it has been taken by Ariana Grande now. Selena Gomes follows only 104 people on and is being followed by 168.6 million people on Instagram.
5. Kim Kardashian — 160.4 million Instagram followers
Kim Kardashian is also an American woman, model and businesswoman, who first rose to fame as friend and stylist of Paris Hilton. She was widely covered after a sex tape of her and her boyfriend Ray J was leaked in 2007. She was also named in 100 most influential people in 2015, while Vogue described her a pop culture phenomenon in 2016.
She was reported to be the highest-paid reality television personality of 2015, with her total earnings exceeding US$53 million. Kim Kardashian has 160.4 million followers on Instagram. She only follows 26 people on the photo-video sharing application.
6. Kylie Jenner — 162.9 million Instagram followers
Kylie Jenner is an American media personality, model, businesswoman, and socialite, who has also starred in the E! reality television series Keeping Up with the Kardashians since 2007. She is the founder and owner of cosmetic company Kylie Cosmetics.
Kylie is an avid social media user, who keeps sharing beautiful photos of her on Instagram. She might not have as a follower as her sister Kim, but she is no less than that. Her makeup brand's account even has more than 20 million followers. Jenner's net worth is estimated at US$1 billion, making her, at age 21, the world's youngest billionaire as of March 2019, reported Forbes.
In November 2018, New York Post credited her for being the most influential star in the fashion industry. Kylie Jenner has 162.9 million followers on Instagram while she follows only 135 people.
7. Lionel Messi — 143.1 million Instagram followers
Lionel Messi is an Argentine football player, who currently plays as a forward and captains both Spanish club Barcelona and the Argentina national team. He was born and raised in central Argentina. Messi was diagnosed with a growth hormone deficiency as a child. When he was 13, he relocated to Spain to join Barcelona, who agreed to pay for his medical treatment. He once announced his retirement from international football, but a wave of huge fan support ultimately led him to return to the field. 
Messi has 131.6 million Instagram followers but he follows only 226 people.
8. Beyoncé — 141.1 million Instagram followers
Beyonce is also an American singer, writer and dancer, who has been taking part in singing and dancing competition since her childhood. She earned recognition in late 1990 as the lead singer of the R&B girl-group Destiny's Child. Mathex Knowles, a group managed by her father became one of the best-selling girl groups in history.
Her Instagram account is filled with pictures of her performances and the latest photoshoots with her fans. Forbes named her as the most powerful female in entertainment on their 2015 and 2017 lists. She also occupied the sixth place for Time's Person of the Year in 2016. Beyonce's Instagram followers are 141.1 million but she does not follow a single people.
9. Neymar Jr — 133.9 million Instagram followers
Neymar is a Brazillian football player, who currently plays as a forward for French club Paris Saint-Germain and the Brazil national team. He is regarded as one of the best players in the world. He is popularly known for his dribbling, finishing, skill, pace, and ability to play with both feet. In 2018, Neymar was listed by Time to be one of the most influential people in the world. France Football ranked him as the world's third highest-paid footballer, whose estimated earning is €81.5m ($95m) for a calendar year in combined income from salaries, bonuses, and endorsements. He Neymar has 133.9 million followers on Instagram and follows 1,174 people.
10. Taylor Swift — 127 million Instagram followers
Taylor Swift is an amazing songwriter and world's leading contemporary recording artists. She does not share as open picture as Kim Kardashian and Beyonce on Instagram. Taylor has been sharing some cryptic clues about what we think might be some new music on the way. Notably, she is one of twelve women who has been featured in Time's 100 most influential people in the world at least three times (2010, 2015, 2019). Taylor Swift has more than 127 million followers on Instagram and but does not follow a single person on the photo-video sharing application.
These are 10 most-followed Instagram accounts across the world. If you want to know more about 11 most followed Indian people on Instagram you can click on the link. This list will be updated from time to time and it was last updated on February 8, 2020.