COVID-19: Mouthwash Eliminates Coronavirus Within 30 seconds?
Mouthwash may kill coronavirus in a lab but it won't stop transmission among people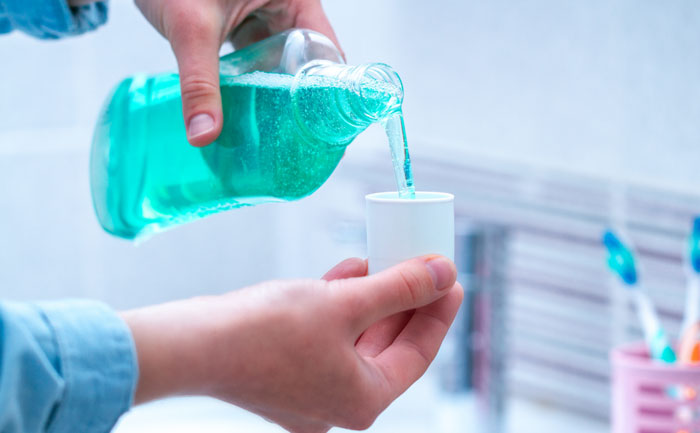 A scientific study suggests mouthwash is able to eliminate SARS-CoV-2 within 30 seconds of exposure in the laboratory. A report from Cardiff University revealed that some over-the-counter mouthwashes had the ability to kill coronavirus. As per reports mouthwashes containing at least 0.07% CPC show signs of helping to fight the virus. The report, which was released on Friday, has yet to be peer-reviewed
The report adds that using mouthwash does not decrease the viral load in your nose and lungs. Therefore will not affect coronavirus transmission.
As reported by News Sky, Scientists conducted tests in a laboratory. They mimicked the conditions of a person's nasopharynx and oropharynx passages. The researchers used mouthwash brands such as Dentyl. Found it to be effective in elimination coronavirus.
The report adds A 12-week clinical trial at the University Hospital of Wales will now help determine the effectiveness of mouthwash in reducing the COVID-19 viral load in patients' saliva. The findings will be published in early 2021.
Dr Nick Claydon, a specialist periodontist, said "If these positive results are reflected in Cardiff University's clinical trial, CPC-based mouthwashes such as Dentyl used in the in vitro study could become an important addition to people's routine, together with handwashing, physical distancing and wearing masks, both now and in the future."
Though the report suggests that the use of mouthwash may help kill the virus in saliva. It does not mean that mouthwash could be used as a treatment for the novel coronavirus or act as a cure. The researchers stressed that people should still follow preventive measures such as physical distancing and hand washing.
Also Read: COVID-19 Vaccine: India To get 100 Million Astra's COVID Shots In December