MSK Prasad hits back at Vijay's 'lack of communication' comment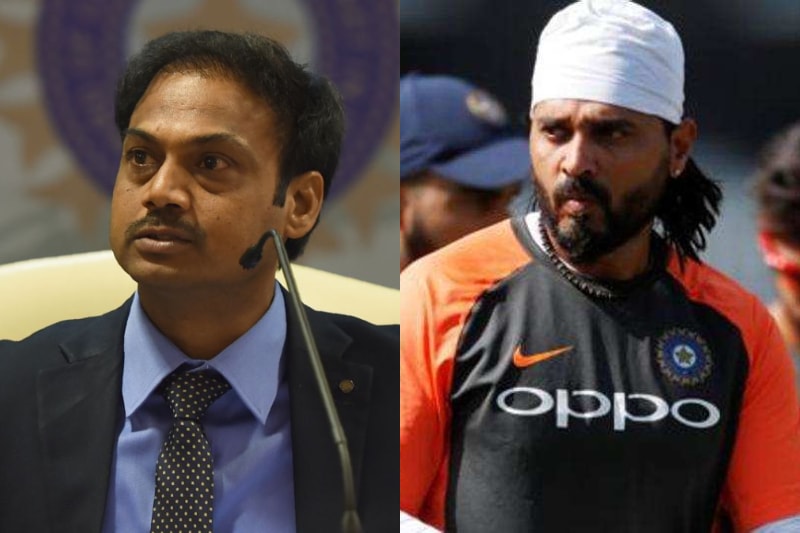 A disgruntled MSK Prasad said that he was surprised after out-of-favour Indian Test opener MSK Prasad talked of the "lack of communication" from the selection committee.
The Prasad-led three-member committee was recently criticised by batsman Karun Nair who claimed that neither they nor coach Ravi Shastri and captain Virat Kohli informed him about being dropped after six consecutive matches.
Veteran off-spinner Harbhajan Singh recently criticised the " parameters of selection" according to the selection committee.
"All these are baseless reports," Prasad said, as quoted by PTI.
"With regard to the non-communication with Murali Vijay after dropping him, I am equally surprised why he has said this while my colleague and selector on call Devang Gandhi had clearly informed him about the reasons why he was dropped," he added.
Vijay had a poor run of form in England where he scored had scores of 20 and 6 in the Birmingham Test and even bagged a pair in the second Test match at Lord's.
Also read: Agarwal picked for Windies Tests, Dhawan, Vijay dropped
Prasad made it clear why Shikhar Dhawan faced the axe from the Test team, saying that the left-hander couldn't emulate his limited overs' format in the whites.
"Shikhar is a prolific run-getter in white ball cricket which unfortunately he couldn't replicate in red ball cricket. We have given him considerable opportunities before taking the decision on him in the longer format and give opportunity to the youngsters like Prithvi Shaw and Mayank Agarwal who were prolific run-getters in domestic cricket and India A," Prasad clarified.
A senior BCCI official said that Vijay perhaps wasn't providing a clear picture of what has happened.
"It is very convenient that MSK has been made the whipping boy with some of these players not giving the correct picture. How did Vijay land a contract with Essex? Would he care to tell us? The arrangement was done by BCCI after speaking to national selectors," he said.
"Within a week of getting dropped, he was playing County cricket for Essex. He, in fact, missed early part of Vijay Hazare Trophy as he was playing county cricket. So didn't Tamil Nadu Cricket Association (TNCA) know that he was playing county cricket. Vijay would do well not to speak about communication," he added.
Image credit (MSK Prasad)- Firstpost
Image credit (Murali Vijay)- Hindustan Times