AIMIM Candidate Mufti Ismail Qasmi Wins Malegaon Assembly Constituency Again
AIMIM candidate Mufti Ismail Qasmi defeats Asif Shaikh Rasheed by almost 40,000 votes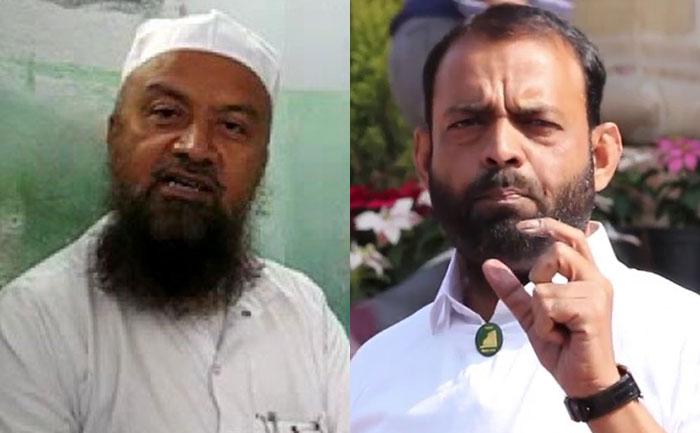 Mufti Mohammed Ismail Qasmi of All India Majlis-e-Ittehadul Muslimeen (AIMIM) has once again managed to dethrone Malegaon Centeral Assembly Constituency sitting Congress MLA Asif Shaikh Rasheed by a massive margins.
According to latest trends — Mufti Mohammed Ismail, who was defeated by Asif Shaikh Rasheed by a margin of 16151 votes in 2014 —  has won Malegaon Centre Assembly Constituency by almost 40,000 votes. After resigning from Nationalist Congress Party (NCP), Mufti Ismail got ticket from Asaduddin Owaisi's party, AIMIM.
This is the second time, Mufti Ismail won from Malegaon Center Assembly Constituency. In 2009, Mufti Mohamad Ismail A Khalique of JSS won the seat by defeating the Congress candidate by a margin of 17919 votes which was 11.84% of the total votes polled in the constituency. JSS had a vote share of 47.04% in 2009 in the seat. Malegaon's Women Anti CAA-NRC Rally
Malegaon Election 2019 Voting Percentage
According to data obtained by the local election commission officer Vijyanand Sharma, a total of 199,812 of the total 296,667 voters cast their votes on Monday, October 21, 2019.
Of the total 199,812 voters who voted on Monday, 108,680 were male voters whereas 91,132 were females, taking the poll percentage of Malegaon voting percentage to 67.35 – about 07 percent more than the state's tally of 60 percent.
There are 13 candidates contested in the 2019 elections. In 2014 there were 13 contestants and in 2009 elections 8 candidates were in the fray for the Assembly elections.