Mukesh Ambani Is Now Fourth Richest Man In The World 
According To The Latest Reports, Mukesh Ambani Now Becomes Fourth Richest Man In The World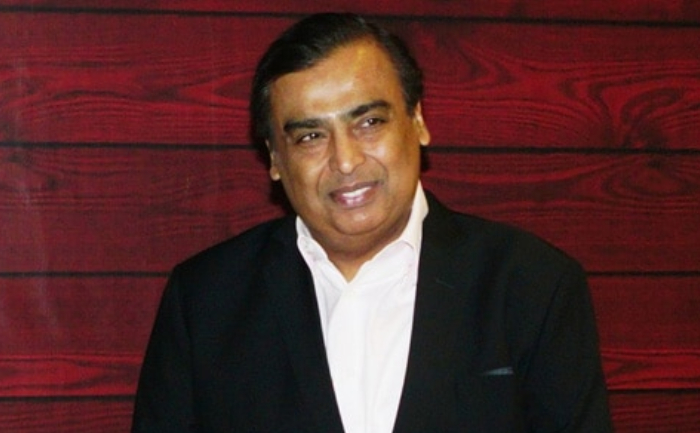 Indian Billionaire Mukesh Ambani now becomes the world's fourth-richest man. The business tycoon has jumped for about ten positions since January to come at the the fourth position. Only three billionaires names are featured now ahead of his name i.e Jeff Bezos, Bill Gates, and Mark Zuckerberg.
The Bloomberg Billionaires Index featured Mukesh Ambani in the fourth position as it released the list of world most richest personalities. He is the chairman of oil-to-telecom conglomerate Reliance Industries. The shares of his giant apparently surged over 145% from a low of Rs 867.82 in March after the company got Zuckerberg onboard. In July, he was at the 6th position. He has already surpassed some of the biggest business tycoons such as Elon Musk, Warren Buffett, and few others. Here, check out the list of top 10 billionaires in world this month.
World's Richest Businessman
Jeff Bezos– $187B
Bill Gates– $121B
Mark Zuckerberg –$102B
Mukesh Ambani –$80.6B
Bernard Arnault –$80.2B
Warren Buffett –$79.2B
Steve Ballmer– $76.4B
Larry Page– $71.3B
Sergey Brin– $69.1B
Elon Musk–$68.7B
Reportedly, the speed with which RIL shares are rising and looking at its further potential, it is believed that its just matter of few more months for Ambani to reach further high positions. He is currently world's 5th richest person with a fortune of $81 billion after overtaking Mark Zuckerberg of Facebook and Bernard Arnault of Louis Vuitton.
Also Read: Mukesh Ambani Becomes 6th Richest Man In The World