Who Is 'Binod' And Why He Is Trending? Find Out How The Name Sparked Social Media Memes 
Social Media Is Filled With Memes On 'Binod'. Here's Everything You Need To Know About How The Name Sparked Hilarious Memes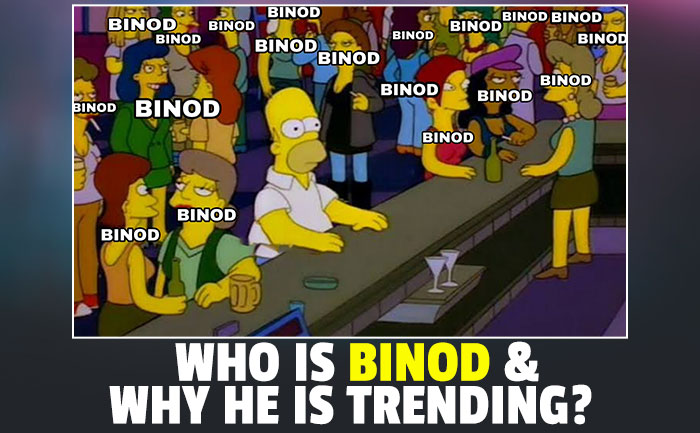 Its really unpredictable, what could be the next trending topic on digital platforms. If you are a social media junkie, you must have noticed by now that a name, 'Binod' is making quite a buzz. The random name is in the trends for few days now. The question that pop's up in everyone's minds is 'Who is Binod and why he has been trending?'. However, there's no face to this name, but all you would be finding on social media are the hilarious memes. So, here, we have a compiled all the information about how the name started trending.
How the name 'Binod' started trending:
An Indian YouTube channel, Slayy Point posted a video exploring their comments section, which they had referred to be the 'garbage'. In the video, Gautami and Abhyudaya highlighted  about the word 'Binod', while they were talking about some of the bizarre comments. The duo highlighted that a user named Binod Tharu, randomly keeps commenting his name 'Binod' in the comments section of their videos. And rest is the history!
How 'Binod' Sparked A Meme Fest On Social Media:
After Gautami and Abhyudaya's video went viral, several content creators and YouTubers highlighted about noticing the same comments on their videos as well. In just few days it sparked a social media meme fest after several pages started posting about 'Binod'. The memes about 'Binod' has caught the attention of the town, while the face behind Binod Tharu remains under cover still.
Check Out Hilarious Memes On 'Binod'
After seeing #binod everywhere, everyone's mood right now : pic.twitter.com/nO31ObWSU9

— NAMAN (@Pseudopanditt) August 7, 2020
Nation wants to know!!!! #binod pic.twitter.com/KGiqIJT9Vi

— Rahul Tiwari (@Rahul7_21) August 6, 2020
#binod
Comment section on every social media platforms – pic.twitter.com/MKIJgdCJF7

— Harish (@surkastik) August 7, 2020
Damn … Everything is Binod. Everyone is binod.. I'm COVID Binod.. My food was very Binod.. There will be Binod War.. I'm am being Binod.
Are you Binod? #binod pic.twitter.com/vrBegtznGe

— Kunal Mahatha (@kunal_mahatha) August 7, 2020
After Getting Fame #binod be like – pic.twitter.com/XrP4npd8S0

— 𝐒𝐔𝐃𝐇𝐈𝐑 (@bloodyprimitivs) August 8, 2020
Nowaday People with no reason
.
.
. pic.twitter.com/3PDrbxOoFl

— Akash Bharade (@Mr_Ak___) August 8, 2020
#binodmemes
Meanwhile Binod fans: pic.twitter.com/bYF09mLfAV

— Ritviz Tweeps⚡🚴 (@eklauta_) August 8, 2020
Everyone thinking who the hell #binod is?? pic.twitter.com/NKiwNGPfoM

— Shreya Singh🦄 (@Shreya_Singh5) August 7, 2020
Internet turning everything into 'Binod'
Soon, after the name become a huge trend on social media, the official page of PayTm responded to it changing its handle name to 'Binod' on Twitter.
Mumbai Police on the other side also posted a joke on 'Binod'.

For more such updates, stay hooked on to The Live Mirror.
Also Read: #BlackOutBTS Is Trending; But The ARMY Need Not Worry