Mumbai: Family members of murder accused stop police vehicle, bite cops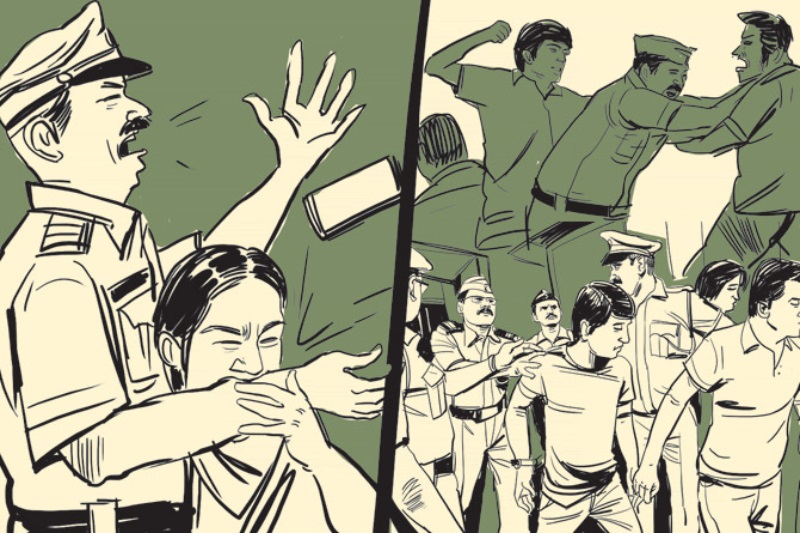 On Tuesday, August 28, family members of two murder accused created a ruckus outside the Dindoshi court and on the Western Express Highway, after not receiving permission to meet the duo. What comes across as an instance of sheer mob lynching resulted in the escape of most family members after the incident yet the police have arrested four of them.
Police sources said that a team of five cops brought murder accused Tabrez Khan(26) and Salim Siddique(20) who have been accused in the murder of a 50-year-old security guard identified as Shoaib Khan from the Taloja jail to the Dindoshi sessions court. The team included PSI Govind Arlekar, constable Kelgendre, Aagwane, Chendge and women constable Surve.
After the court proceedings were completed, at around 2 pm, more than 16 family members, including several women, tried to meet the accused duo. The cops did not allow them to do so. This reportedly triggered their anger as they went ahead and blocked the van with their bikes and began abusing the police.
PSI Prashant Hule from the Sakinaka police station intervened and somehow managed to disperse the angry crowd of and paved way for the police van to pass The relatives then witnessed the accused duo hitting their heads inside the van. Salim reportedly hit two of the constables, biting one and injuring another's lip. This further insinuated the family members who grew more aggressive as they opened the doors of the vehicle.
PSI Arlekar, who had caught hold of the accused, suffered the wrath of the relatives and received blows too.
After the van managed to escape, the relatives chased and blocked it on the Western Express Highway. They not only assaulted the team of cops but one of them even bit PSI Hule and broke his mobile phone. The others hit and bit PSI Arlekar and constables Aagwne and Chendge.
Whilst being under attack, one of the cops in the van called for reinforcements. A team from Vanrai police station immediately rushed to the spot for help. "Seeing the additional cops, most of the family members escaped from the spot. The cops still managed to catch four of them," said a policeman from Vanrai police station. The relatives, identified as Firdos Firoz Khan(23), Danish Firoz Khan(19), Noor Banu Khan(28) and Shabana Khan(25) all of whom are residents of Best Nagar in Aarey colony.
Senior police inspector Rajaram Vhanmane confirmed the fiasco and added that the four arrested accused have been booked under sections 353, 332, 341, 143, 146, 427, 333, 224, 149 and 506 of the Indian Penal Code. On Wednesday, they were produced in court and remanded in police custody. Vhanmane also said they will catch hold of the absconding accused with the help of the arrested ones.
Also Read: Mumbai: Crime branch officer transferred for 'proximity' to informant Bali