Mumbai: Huge fire breaks out in Aarey Colony near Film City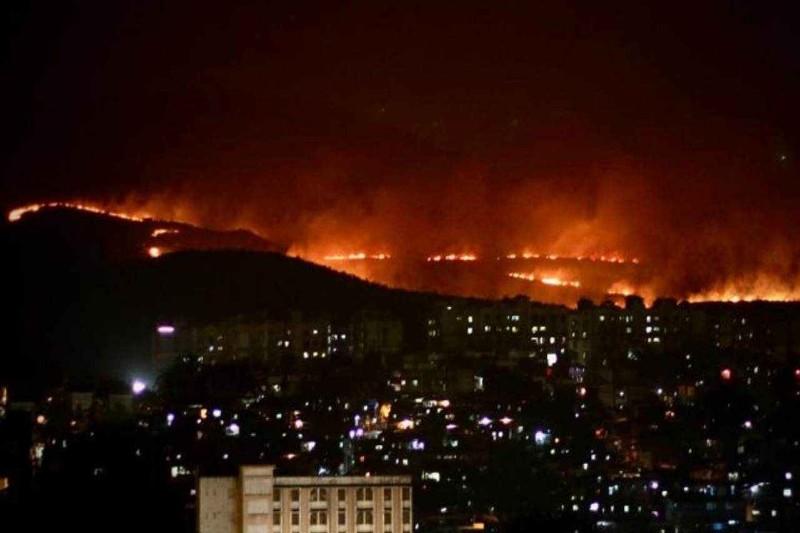 A huge fire broke out on a hill near the IT Park in Mumbai's suburban Goregaon on Monday evening, said a fire brigade official.
The incident reportedly occurred at around 6:30 pm on one of the hills that cover the forest in Habalpada near the Sanjay Gandhi IT Park in East Goregaon, according to a report in Mirror Now.
The fire brigade control room was immediately informed and three fire engines were rushed to the spot.
But with the fire spreading to the nearby forests (across 3 km) 10 fire engines have been sent to the incident area. The area was later confirmed to be the FE Dinshaw trust property, which falls between the Sanjay Gandhi National Park and Aarey Colony.
No reports of casualties were reported. The cause of the fire is yet to be ascertained and police officials confirmed that investigation have been initiated to find out the real cause.
Another report in India Today informed that since the area is heavily covered by forest, the fire brigade is finding it difficult to reach the spot. The brigade as per latest reports have made two hose lines to douse the flame and are using green tree branches, which do not catch fire easily.
The report also said that tribal hamlet and their cattle are stuck inside the forest and the police are attempting to evacuate them to safety.
"There is no access to the fire vehicles inside the forest. As fire is spreading we have asked the disaster management to alert all the police stations in the surrounding area to evacuate the people and cattle," said a fire official according to Times of India.
News agency PTI quoted a fire official as saying that several agencies, including the police, fire and forest department have been informed about the incident.
Also Read: Fire breaks out at Mahalaxmi building in Mumbai, Woman dies